10 Incredible Books on Sobriety That Helped Me Quit For Good
Are you flirting with the idea of taking a break from alcohol? Or maybe it's time to quit for good, but the thought freaks you out, and you don't know where to start.
When I first stopped drinking, books were one of the most useful tools in my sobriety toolbox.
I read recovery memoirs to help make sense of what was going on with my life. To fight my demons, I had to understand them. Luckily, I found excellent books for that as well.
I'm going to share with you my personal favorites that helped me get through those first thirty days of sobriety to where I am today – six years alcohol-free.
Let's dive in!
The Best Books on Sobriety (That Helped Me Get and Stay Sober)
I know I've already touched on the importance of books in my recovery journey, but let me explain a little more.
I truly believe these books helped save my life. I felt so much shame towards the end of my drinking and couldn't talk to anyone about it.
At the time, I lived outside of the US in a country where alcohol was illegal for the local population but also rampant within the expat community. Everyone seemed to live on one end of the spectrum.
Binge drinking was baked into the expat experience, so my concerns about my drinking felt like a secret I had to carry.
These books opened my eyes. For the first time in my life, I could relate to another person's experience with drinking. I felt understood and seen in both the best and worst ways.
I knew I wasn't alone or especially flawed. There were successful, smart people out there who shared these same struggles. It was the gift I needed to take that next step. I hope at least one of these books can do the same for you.
1. Drinking: A Love Story by Caroline Knapp
This book by Caroline Knapp was the first recovery memoir I ever read. It sparked the beginning of my sober journey.
I had never read the thoughts of someone who knew exactly what I'd been going through.
Until I read this book, I felt a combination of broken (or, at the very least, defective) and hopeless. This memoir chipped away at both feelings.
For my fellow high-functioning-alcoholics and gray area drinkers out there, if you keep bouncing back and forth between whether or not you really have a problem, read this book.
Many of us do it, and the answer is a resounding, "Yes! You probably do have a problem."
Knapp was a writer by trade, which makes her story all the more captivating. She's a successful, privileged woman and, at the same time, fundamentally flawed and messy.
I finished this book believing that redemption was possible. Sadly, she died at age 42 from lung cancer in 2002.
Noteworthy quote from the book:
"Drinking alone is what you do when you can't stand the feeling of living in your own skin."

Caroline Knapp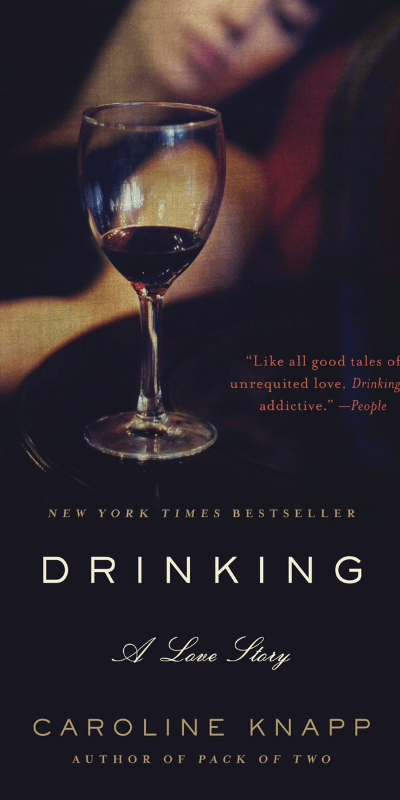 2. The Night of the Gun by David Carr
This is the second addiction book I read at the beginning of my sobriety, and I loved it for vastly different reasons.
David Carr was a beloved journalist for The New York Times who passed away from (yes, you guessed it) lung cancer in 2015 after he collapsed on the floor of the newsroom.
I would not classify David Carr as a high-functioning alcoholic or drug user.
The fact that he survived his addiction is a miracle in itself. I can't relate to much of Carr's experience with drugs and alcohol, but I could connect to the inner demons that drove him to it.
What's so fascinating about this book is that he approached it from the standpoint of a journalist.
Because alcoholics and drug users have notoriously terrible memories, he went back and interviewed the people in his life who had been there to try to piece together what really happened.
The insights you pick up along the way are so powerful. Carr understands addiction and the personal destruction that leads you to it. He made me think about what I was doing in ways nobody else had done before.
No matter how severe your struggles with addiction or alcoholism, this book will be useful for you!
Noteworthy quote from the book:
"Truly ennobling personal narratives describe a person overcoming the bad hand that fate has dealt him, not someone like me, who takes good cards and sets them on fire."

David Carr
3. The Recovering: Intoxication and its Aftermath by Leslie Jamison
This is a more recent read for me by Leslie Jamison, also a noted writer. Do you sense a trend here with creatives and addiction?
That's actually a perfect segue into what sets Jamison's book apart from most recovery memoirs and books about addiction.
In a brilliant narrative style, she constantly flips back and forth between her personal story and the history of the alcoholic creatives who came before her, their lives intersecting in fascinating ways.
She quite literally walks the same paths, frequents the same haunts, and engages in the same downward spiral as many great writers who came before her. It is part memoir, part history lesson, and part social critique.
I was enthralled by this book. I especially connected to the way she drank and her constant tug-of-war over being an alcoholic. Was it just par for the course for creatives or could her drinking really be considered a problem?
She takes the reader on a very humbling journey through her recovery and experience with AA where she (rightfully so) gets knocked off her high horse and into a reality that I believe saves her from herself.
This book is beautiful, informative, and inspiring for anyone who is trying to change their relationship with alcohol.
Noteworthy quote from the book:
"The more you start to need a thing, whether it's a man, or a bottle of wine, the more you are unwittingly – reflectively, implicitly – convincing yourself that you're not enough without it."

Leslie Jamison
4. The Sober Diaries by Clare Pooley
This gem of a book by Clare Pooley is a nice departure from the intensely introspective books I just mentioned. And that's not to say that it isn't introspective (it is!), but it's also funny and more lighthearted.
I cracked up laughing as many times as I nodded my head in knowing, alcoholic agreement. The basic premise of this book is that she is letting us peek into her diary during her first year of sobriety.
Pooley went from a high-power advertising executive to a stay-at-home mum with an enormous wine belly and a whole host of regrets she attempted to drink away.
Her first year of sobriety is filled with highs and lows, and I was so grateful for her willingness to share it so openly. Did I mention she's hilarious?
Noteworthy quote from the book:
"When you drown your problems with booze they don't go away, they just get forgotten for a bit, fester and get worse, like mouldy bits of cheese that the children have dropped down the gaps between the car seats."

Clare Pooley
5. Dry: A Memoir by Augusten Burroughs
This is a memoir by Augusten Burroughs of Running With Scissors fame. If you haven't read that book, I highly recommend it. The story of his childhood is absolutely wild. There's just no other way to describe it.
That being said, Dry blew me away. Burroughs writes with a dry wit that is utterly engrossing.
I found myself in disbelief that his life took some of the turns it did while at the same time rooting for him. His dysfunction has the weird quality of being both uniquely his own and universal.
There's also the dark comic relief offered throughout, which I am a big sucker for. Burroughs' story will break your heart, but if you're familiar with his other work, that might not surprise you.
It's gritty, honest, and not the perfect, happy ending we're all looking for, but it's real.
Noteworthy quote from the book:
"Sober. So that's what I'm here to become. And suddenly, this word fills me with a brand of sadness I haven't felt since childhood. The kind of sadness you feel at the end of summer. When the fireflies are gone, the ponds have dried up and the plants are wilted, weary from being so green. It's no longer really summer but the air is still too warm and heavy to be fall. It's the season between the seasons. It's the feeling of something dying."

Augusten Burroughs
6. Drink: The Intimate Relationship Between Women and Alcohol by Ann Dowsett Johnson
I admittedly have this book by Ann Dowsett Johnson in my library and started it back in 2016 but have since forgotten it. I will finish it eventually.
At the time, I needed to hear stories more than facts and statistics, and that's what Ann's book offered.
Drink is not an addiction memoir so much as an investigative look into why women, specifically, drink and despite my mindset at the time of reading it, I did find it fascinating.
Especially the evolution of mommy drinking culture and how we got to this place where we've tried to normalize drinking to cope with the stresses of being a woman in today's modern world.
Noteworthy quote from the book:
I am doing battle. I am battling for consciousness. I want to go to bed sober. I want to remember my dreams. I want to know myself without alcohol.

Ann Dowsett Johnson
7. The Unexpected Joy of Being Sober by Catherine Gray
This addiction book by Catherine Gray was such a joy to read. She's funny and self-deprecating in a refreshing way, but also real. Much like Clare Pooley's book, I found myself nodding in agreement as much as I was chuckling at her various insights.
I also appreciate that she interviewed top psychiatrists and neuroscientists for this book to get a better understanding of what drives us to become addicted to alcohol.
I loved being able to get a front row to her own experiences and journey. But I also appreciated how she weaved her research and interviews into that story. It gave me context, not just for her story, but my own.
Catherine Gray
Catherina has written a follow-up book called "Sunshine Warm Sober: The unexpected joy of being sober – forever." I've not read it yet, but when I'll do, I'll report back.
8. This Naked Mind by Annie Grace
It's hard to write a list of the best books on sobriety and not include Annie Grace's This Naked Mind. This book has helped thousands of people change their relationship with alcohol and quit for good.
Like many of the other books on this list, Annie invites us to follow her journey from alcohol addiction to sobriety. She has a unique approach to sobriety that teaches people to reframe their relationships with alcohol.
Annie's book offers a great mix of practical advice and scientific research, which I've always found helpful. I want to know what the science says but also how other people have applied that knowledge in ways that actually helped them quit.
After reading this book, you will feel empowered and better equipped for the task ahead.
Noteworthy quotes from the book:
Alcohol erases a bit of you every time you drink it. It can even erase entire nights when you are on a binge. Alcohol does not relieve stress; it erases your senses and your ability to think. Alcohol ultimately erases your self.

Annie Grace
If you've read and enjoyed Annie's books but are still struggling with quitting alcohol, she does offer courses and training to help people quit drinking.
9. Blackout: Remembering the Things I Drank to Forget by Sarah Hepola
Blackout is another raw and honest recovery memoir by Sarah Hepola. She takes the reader on a journey through her drinking career, eventually leading her down a binge-drinking, blackout spiral that takes a toll on every aspect of her life.
What I loved about Sarah's book was her honesty. This book is great for anyone who struggles to hold up the mirror to themselves and confront the parts they don't like reflected.
Drinking is often about avoidance. We drink to avoid boredom, the end of things, and our own failures. When you stop drinking, you can't hide anymore. And that's one of the hardest parts of getting sober.
Sarah invites us to ride shotgun as she attempts (and sometimes fails) to become a person who stops hiding behind alcohol and actually deals with her life.
Noteworthy quote from the book:
Addiction was the inverse of honest work. It was everything, right now. I drank away nervousness, and I drank away boredom, and I needed to build a new tolerance. Yes to discomfort, yes to frustration, yes to failure, because it meant I was getting stronger.

Sarah Hepola
Honorable Mentions: The Power of Habit by Charles Duhigg
Although not a book about sobriety, this book helped me deal with emotional triggers in the early days of sobriety.
The Power of Habit fundamentally changed the way I understood the inner workings of my brain.
Charles Duhigg breaks down the science of habits. Why do we form them? How do we break them? He has brilliant anecdotes of how these theories work in the real world for both people and businesses.
I was fascinated the entire time I read.
The key to changing your life and breaking bad habits and behaviors is to thoroughly understand them so that you can take them apart and rebuild something that will better serve you. I firmly believe this.
After reading Duhigg's book, I not only understood the nature of habits better, but I felt adequately equipped to take them on. This book helped me quit drinking, quit smoking, and start incorporating healthy habits back into my life, like regular exercise.
It's not a magic pill or instantaneous fix by any means, but it does work if you give it time and energy.
Although not an exhaustive list, these ten books strongly impacted me and helped me get to six years of sobriety. Plus, I wanted to give you my honest reviews based on books I've actually read (something not every website does).
As I add to my library, I'll add to this list.
Are there any books you'd recommend? Drop them in the comments!
Want to learn more about quitting drinking? Check out these resources: