5 Books To Help You Through The First Thirty Days of Sobriety
The first thirty days of sobriety can be rough. Like, want to pull your hair out and scream into a pillow "rough." You're going to need to be prepared to tackle both the physical and emotional challenges that await you.
When I first stopped drinking, I found books to be one of the most useful tools in my sobriety toolbox. I read recovery memoirs to help make sense of what was going on with my life. In order to fight my demons, I had to understand them. Luckily, I found excellent books for that as well.
Because big book lists can be overwhelming, I've provided you with a perfectly manageable list of five useful books to help get you started on this journey.
Recovery Memoirs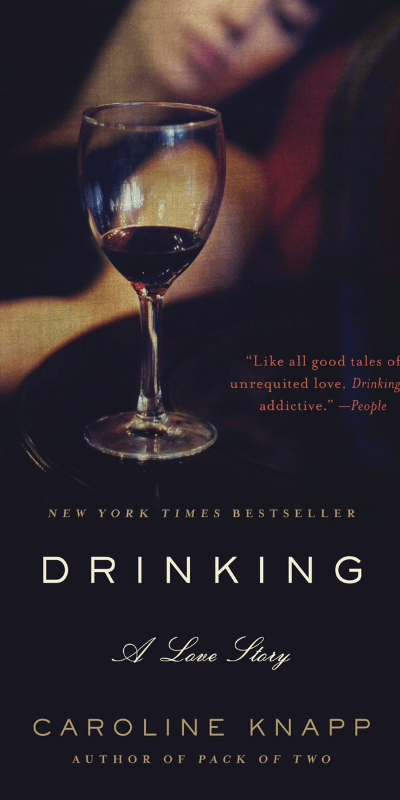 Caroline Knapp's recovery memoir was one of the first things I read when I stopped drinking and it blew me away. For the first time, someone was able to articulate what I had been feeling. I could read Knapp's story and see myself in it. All the ugly, shameful thoughts and behaviors I had been indulging in were right there on those pages.
It was comforting to know that I wasn't alone. Knapp's memoir is raw and vulnerable, which is so valuable when you first stop drinking. I understood that I was a mess, but I wasn't far enough removed from the behavior to make sense of it. Reading this book helped me begin to do that. Sadly, Knapp died in 2002. Although she didn't relapse, she continued to be a heavy smoker which ultimately cut her life short.
This is the second book I read after I quit drinking and it was equally impactful, though for different reasons. David Carr was a renowned journalist for The New York Times (he died in 2015).
I'd been familiar with his work, but not his past. His story is intense. I never got remotely close to his level of substance abuse and addiction, but his story is so insightful, gritty, and introspective that I still got so much out of it.
Carr is a consummate storyteller. This book is as riveting as it is insightful. If Carr can come back from the depths he sank to, there is hope for all of us.
Another recovery memoir? Yes! Maybe it's because Jamison is a writer and I see traces of myself (or who I aspire to be) in her story, but I was so pulled in by this book.
Like Knapp and Carr, Jamison is an incredibly beautiful writer. What I love about this book is the interlacing of stories. Jamison does a deep dive into her own drinking, but also the drinking and stories of other great writers, most of which do not have happy endings.
She also does an incredible job of taking the reader down a journey of the story of addiction in America. It is a stunning book that will have you nodding your head and saying, "yes, me too."
More Jewels From the Self Help Aisle
Obviously, the title of this book is a winner, but it is also pleasantly useful. Counter to what you might think at first glance, this is not a how-to-guide for cynics.
As Manson so eloquently states, "In life, we have limited f*cks to give. So you must choose your f*cks wisely." This is essentially a roadmap for how to navigate adversity from a realistic perspective.
Unlike other books in the self-help aisle that claims we can ALL achieve greatness because the Universe and abundance (or something like that), Manson takes a more practical approach to living. It starts with getting rid of our delusions of grandeur, acknowledging our limitations, and making the best of what we've got.
I loved this book and will read it again. It was helpful for my sobriety because it gave it to me straight and helped me understand what I needed to be doing for myself in order to move forward with my life.
It's also wildly entertaining. You'll laugh. You'll cry. you'll get out your highlighter.
This book fundamentally changed the way I understood the inner workings of my brain.
Charles Duhigg breaks down the science of habits. Why do we form them? How do we break them? He has brilliantly interesting anecdotes of how these theories work in the real world, for both people and businesses.
I was fascinated the entire time I read.
The key to changing your life and breaking bad habits and behaviors is to thoroughly understand them so that you can take them apart and rebuild something that will better serve you. I firmly believe this.
After reading Duhigg's book, I not only understand the nature of habits better, but I felt adequately equipped to take them on and I have! I've stuck with no drinking. I've given up smoking. You won't find junk food in my house.
It's not a magic pill or instantaneous fix by any means, but it does work if you give it time and energy.
And that's it! Do you have any books to add to the list? Add them in the comments below.
Happy Reading!