BPD and Alcoholism: What Makes Someone Struggle With Both?
One of the most insidious aspects of alcoholism is that so many people get into trouble once they start self-medicating mental health problems with alcohol which, in turn, makes those mental health problems worse.
Unfortunately, this is an all-too-common occurrence for people struggling with Borderline Personality Disorder.
A recent study revealed that as many as 78% of adults diagnosed with BPD also have a co-occurring substance use disorder during their lives. There is a connection between alcohol abuse and disorders like BPD. But what is the link?
What Are Alcoholism And Alcohol Use Disorder (AUD)?
Alcoholism and the term 'alcohol use disorder' are often used interchangeably. They both refer to a medical condition where an individual is unable to control their intake of alcohol, despite the adverse effects of drinking too much.
AUD is not just a social habit or behavior that occurs when people are having a good time. It's considered a brain disorder because of the lasting effects on the brain by excessive alcohol intake. Like Borderline Personality Disorder (BPD), healthcare professionals can diagnose it using the DSM-5.
The Diagnostic and Statistical Manual of Mental Disorders suggests that two or three symptoms indicate mild AUD, four to five equals moderate AUD, and severe is when six or more criteria are present.
The criteria include whether, in the past twelve months, the person has:
I've included a quiz at the end of this article to help you assess whether you're at risk for alcohol dependence.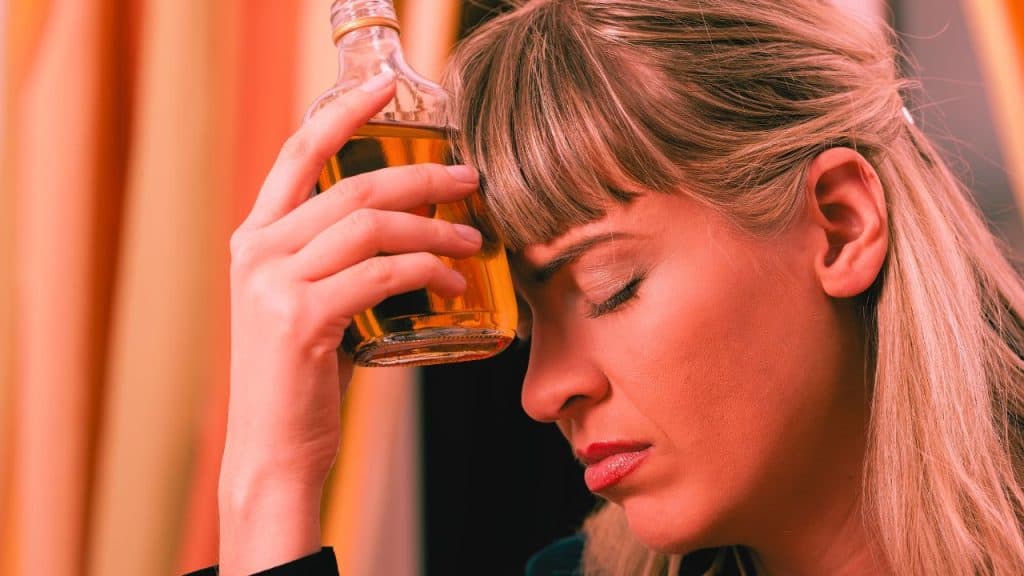 What Is The Link Between BPD And AUD?
Borderline Personality Disorder (BPD) is a disorder where people struggle to manage their emotions, appropriately interpret situations, and maintain healthy and meaningful interpersonal relationships. The following symptoms characterize it:
Low self-esteem, self-harm, and self-sabotage
Impulsive and reckless behavior
Intense anger and fluctuating moods – and poor anger-management
Periods of depression and feelings of emptiness
Intense fear of abandonment and extreme efforts to avoid 'perceived' abandonment
Sensitivity to criticism and rejection
Because of the nature of BPD and alcoholism, there is a significant overlap between the two disorders. But one can also pre-empt the other.
Co-Occurring BPD And Alcoholism
Research points to high rates of co-occurrence between BPD and alcoholism, with as much as 49% of people with BPD meeting the criteria for current AUD and 59% for long-term AUD. This is in line with the experiences of healthcare practitioners who find that about half of their patients with BPD also struggle with alcohol abuse.
One of the challenges with the comorbidity (the simultaneous presence) of BPD and AUD is that both disorders share symptoms, triggers, and potential causes.
Why Do People With BPD Tend To Drink Heavily?
Looking at the characteristics of BPD, it's easy to see how those struggling with their emotions, engaging in reckless behavior, and dealing with intense emotions would resort to drinking.
What may start as a few drinks to take the edge off or help them feel less anxious can soon become heavy drinking.
Self-harming behavior is also expected in BPD – not only due to low self-esteem or a desire to feel something other than 'numb' – but also because BPD sufferers are often seeking attention or trying to manipulate those around them as a means of avoiding abandonment.
By drinking excessively, the person with BPD forces others to look after them when incapacitated. It also exempts them from accountability for their actions, which can often be aggressive or abusive as they struggle to deal with their emotions.
Self-sabotage in BPD is also common and serves the purpose of helping the person feel in control over a perceived rejection, to manipulate others into validating them, or simply to feel some relief.  Alcohol is a depressant, so BPD people may drink to minimize the intense emotions they feel and struggle to process.
Some studies point out how BPD and AUD share fundamental aspects, like:
Dysfunctional lifestyles as a general experience, but also as a result of BPD and AUD
Unhealthy coping mechanisms
Impulsivity and inability to control their behavior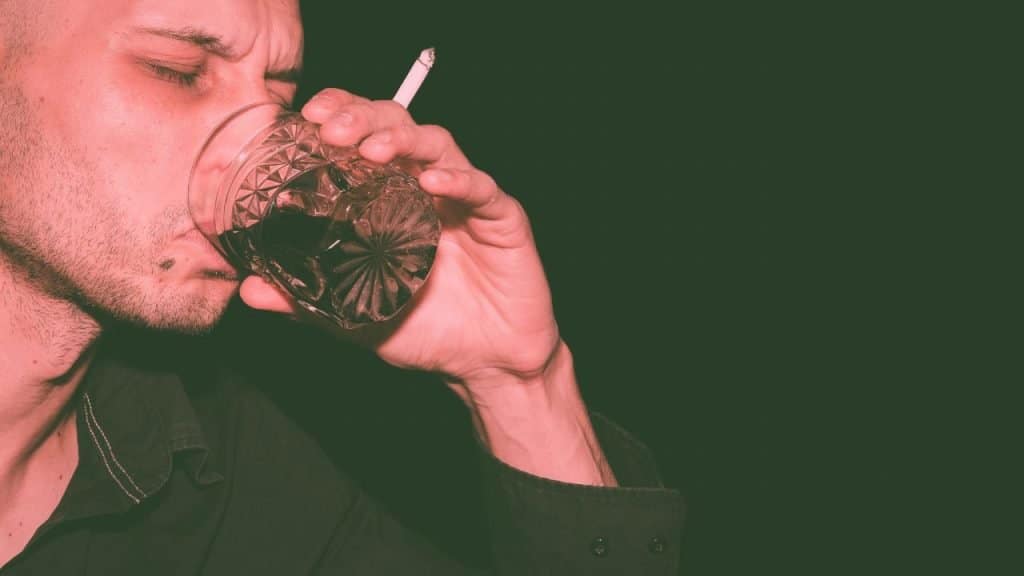 Can Alcohol Abuse Cause BPD?
Experts believe that people with AUD are 3.35 times more likely to be diagnosed with BPD than those who don't have a substance abuse issue. That being said, AUD itself doesn't cause BPD. But it can play a role in the underlying causes that lead to BPD.
Studies suggest that BPD can be inherited via genetics or as a result of problems in the brain – in both cases, parents with AUD challenges are more likely to have children with similar issues.
Furthermore, environmental factors like emotional, physical, or sexual abuse, exposure to extended periods of fear, distress, or neglect, and growing up in a family with mental health disorders have been linked to the root cause of BPD. 
The World Health Organization has quoted that 55% of people who engage in domestic violence do so under the influence of alcohol, and 68% of troubled children in treatment programs have witnessed such abuse. The link between alcoholism and mental health disorders is clear.
Effects Of Alcohol On People With BPD
Many people with BPD self-medicate with alcohol to deal with situations and emotions that are too big for them. As a temporary escape from reality, which can be terrifying for those expecting rejection at all times, regular alcohol use can quickly become an addiction.
Some of the negative results of mixing alcohol with BPD are as follows:
Can BPD Lead To Alcoholism?
Because alcohol is an accessible means of dulling emotions and helping people with BPD cope in the moment, it commonly becomes habitual. Having a drink now and then to deal with difficult situations can, and often does, escalate into having a drink every day. 
Since BPD sufferers don't have good coping strategies, once introduced to the relaxing effects of alcohol, it's easy to see how it can quickly become an addiction and a dependency. The latest statistics show that more than 29.5 million people over the age of 12 in the USA have AUD.
Looking at how easy it is for those with BPD to fall into the trap of using alcohol as a means of coping, it is even more imperative that people with BPD get professional help.
Does Alcohol Make BPD Symptoms Worse?
As we've briefly touched on before, alcohol is a CNS depressant which means that it leaves you feeling relaxed and at ease – at least initially. Alcohol slows down physical and psychological abilities, meaning you react slower to situations around you.
It can also trigger feelings of euphoria or mood swings. If you have BPD, this is already something you have to deal with, so adding alcohol to the equation will magnify this emotional fluctuation. And, since alcohol impairs cognitive function, you're even less likely to be able to process emotions in this state.
Alcohol will most certainly make BPD symptoms worse, which in turn affects the BPD person's ability to recognize any danger they're in. Additionally, if a person with BPD is undiagnosed, they are less likely to seek help for their BPD challenges because it can be written off as the effects of a bout of drinking.
Where To Get Help
If you're concerned about yourself or a loved one possibly having AUD, the first step is to book an appointment with your doctor to talk about your drinking and treatment options. You can also contact American Addiction Centers or call 406-602-0637.
If you are dealing with BPD and AUD simultaneously, it's especially important to consult your healthcare practitioner about the way forward, and ensure you get the proper treatment. A support group – for you and your family – will be vital in dealing with the overlap between these two disorders. 
The most important thing is to take the first step.
It can be really scary to admit you might have a problem with drinking. When you're already wrestling with a challenging disorder like BPD, the two can feel insurmountable. But they're not. 
There is help and hope on the other side of this. If you're looking to connect with people who are in a similar boat, consider joining the Soberish private Facebook Group.
Take The AUDIT
The Alcohol Use Disorder Identification Test is used by medical professionals to assess your risk for alcohol dependency. This quiz is not a substitute for medical advice, nor is it an official medical diagnosis. It's for informational purposes only, but I hope that you'll take your results seriously and reach out to a medical professional if you suspect you may have a problem with drinking.
Additional Resources: