Can You Quit Drinking Cold Turkey? Know The Risks
Are you considering quitting alcohol cold turkey?
Maybe you've realized that drinking has taken its toll on your life, and you're ready to change.
But before you dive headfirst into quitting abruptly without a plan, it's important to understand the risks and challenges ahead.
The Impacts of Excessive Drinking on Our Bodies
Let's start by talking about why this decision is so important. Heavy, chronic drinking takes a toll on our brains and bodies.
According to the Centers for Disease Control and Prevention (CDC), the consequences of heavy alcohol consumption are far-reaching.
In the short term, you may experience high blood pressure, heart disease, and an increased risk of accidents and injuries due to impaired judgment and coordination. Ever made a questionable decision while drunk?
Sure you have! We all have.
But the consequences of drinking don't stop when our hangover does.
The long-term consequences of excessive drinking are even more alarming. When we consistently abuse alcohol, it can lead to some serious health issues. 
We're talking about liver disease, digestive problems, and an increased risk of developing various types of cancer, including breast, mouth, liver, colon, and rectal cancer.
But that's not all. When we engage in heavy drinking, it also messes with our cognitive functions and memory.
Excessive alcohol consumption has been linked to learning and memory problems, including conditions like dementia. Over time, you might notice that you forget things more easily, feel fuzzy brained, and can't retain information like you used to.
(This is especially bad news if you're in college.)
All of this negatively impacts our overall quality of life and make it harder for us to function. Great reasons to stop drinking, right?
Definitely! But it's also important to know what you're getting into and how to set yourself up for success along the way.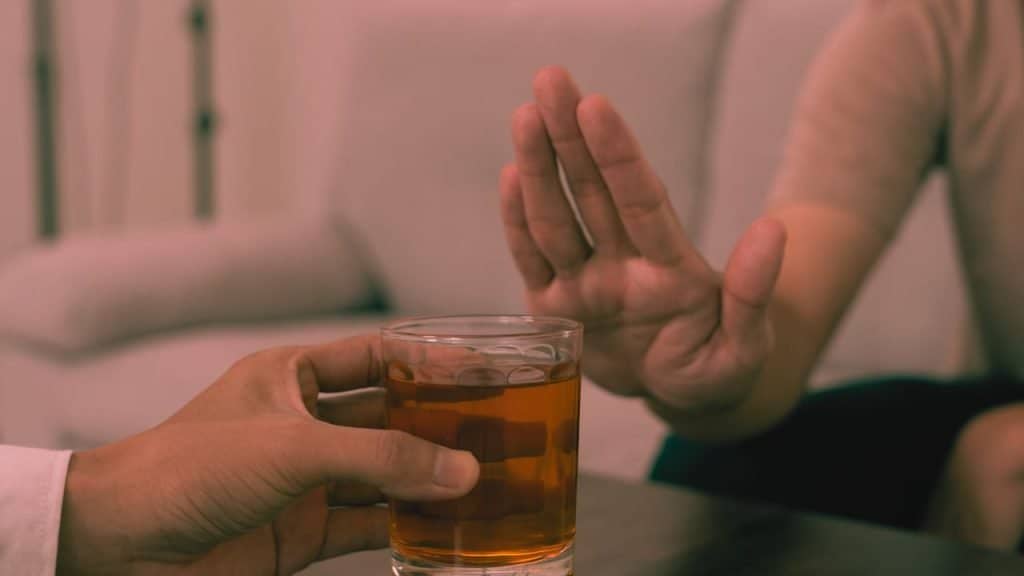 Is It Safe To Quit Drinking Cold Turkey?
It depends. Some people can quit drinking cold turkey safely, while others are at risk for severe alcohol withdrawal symptoms that can be life-threatening.
Whether you are at risk depends on your drinking habits, genetic factors, co-occurring disorders, and your overall physical health. Your doctor is the best person who can assess whether you can safely quit drinking cold turkey at home or require a medical detox.
As tempting as it sounds, quitting cold turkey without consulting a doctor isn't an ideal choice.
I would be remiss if we didn't talk about the risks and dangers associated with this approach that you need to consider before diving in.
Here are some critical issues associated with quitting alcohol cold turkey from the American Addiction Center:
All of these risks and complications mean that it's really important to involve your medical doctor and/or an addiction specialist in your quit plan.
Quitting alcohol is one of the hardest things you'll ever do. Those first 30 days especially can really test you. This is why you need to establish a strong support network via support groups, in-person counseling, and enlisting supportive friends and family before you quit.
This is in addition to booking an appointment with your doctor to talk about the safest way to stop drinking based on your individual consumption levels and additional risk factors.
What Happens When You Quit Drinking Cold Turkey?
We'll explore what quitting alcohol cold turkey feels like in a minute, but first, let's discuss the withdrawal process.
Your experience with quitting cold turkey is going to depend on a number of factors like:
How much, how frequently, and how long you've been drinking
Genetic factors
Family history
Age
Weight
Co-occurring disorders
Medical conditions like heart conditions or liver disease
Your individual risk factors will largely impact what you quitting experience actually feels like. With that caveat, here is a general breakdown of your quitting drinking timeline.
What Does Quitting Cold Turkey Feel Like?
I tried multiple times to quit cold turkey without additional support in the past. (It's likely why I failed so much). It was just me white-knuckling every second of every day. (Horrible way to do it. High failure rate.)
No two experiences were the same. Sometimes I experienced the pink cloud in the first week and felt great! But then I would get slammed with reality a week or two later and melt under the weight of a depressed mood and intense cravings.
Other times, I felt horrible and the entire world seemed dull and uninteresting. I later learned there is a term for this – anhedonia. It was a result of an extreme dopamine deficit resulting from the sudden absence of alcohol.
My brain had become so accustomed to large quantities of alcohol, that it stopped producing dopamine naturally and had even shut down dopamine receptors to account for the flood of dopamine from drinking. The brain likes balance, after all.
So when I suddenly quit, my mood and mental health swung hard in the opposite direction. It was terrible, and I needed to work closely with a mental health professional and go on medication to manage my depression and anxiety symptoms.
This is all just to say that when you quit drinking, you need to take an all-hands-on-deck approach to ensure your success rate. Quitting alcohol cold turkey on your own can be a recipe for disaster, but with the proper supports and medical supervision in place, it can be the start of the rest of your life.
So What's the Alternative to Quitting Alcohol Cold Turkey?
Some people decide that quitting cold turkey isn't the right fit for them. If that's you, you might consider a tapering approach.
Tapering off alcohol gradually decreases your consumption over time. This method allows your body to adjust more gradually, minimizing the risks and challenges of quitting abruptly.
It's also extremely challenging to do. That's due, in large part, to the way alcohol impacts our brains and judgment. Sober "you" might have all the intentions in the world to limit yourself to a few drinks as part of your tapering program.
But once you've had a couple drinks, you may find you're too impaired to make a good decision and slip back into heavy drinking.
In that case, your tapering program may be best supported via medication like The Sinclair Method and under the supervision of an addiction specialist or counselor.
Tips for Tapering Off Alcohol (With A Caveat)
Here are some recommendations to consider based on an article by The Freedom Center:
What if I can't taper off alcohol? (The Caveat)
If you try to taper off alcohol and you can't do it, don't beat yourself up. I couldn't do it either. I certainly tried, but it was akin to trying to moderate drinking and my brain was not set up that way.
If this is you, it's time to book an appointment with your doctor.
They can do a proper assessment of your drinking habits to determine whether you're safe to quit cold turkey or require a medically supervised detox.
I know that last part sounds a little scary, but it is for your safety. Remember those alcohol withdrawal risks? Quitting cold turkey can be extremely dangerous for some chronic drinkers.
Let a medical professional evaluate you to determine your risk level and then you can start creating your quit plan from there.
Finding Your Way to a Sober You
Embarking on the journey to quit alcohol is a courageous decision. So, embrace it for what it is—a big deal and one you should approach with care and consideration.
Whether you decide to venture ahead and quit cold turkey or explore alternative methods like tapering off, the key is to find an approach that suits you best and get the support you need to be successful.
Remember, you're not alone on this journey.
Seek support from professionals, loved ones, or support groups who can provide guidance and encouragement. If you're looking for a place to start or just want to talk to people who know what you're going through, consider joining our Soberish private Facebook Group.
Take the AUDIT
The Alcohol Use Disorder Identification Test is an assessment that medical professionals use to determine your risk of alcohol dependence.
It is not an official diagnosis or a substitute for medical advice. This is for informational purposes only, but you can take your results with your to your doctor's appointment to discuss next steps.
Additional Resources