What Is A Distorted Self-Image? Big Signs To Look Out For
We've all experienced a time when we were dissatisfied with ourselves, whether that's because we didn't like how we looked or because we didn't quite have the success we expected. While this is normal, to some degree, some struggle to see themselves as they really are.
A distorted self-image is when you see yourself inaccurately and negatively. 
It affects how you feel about yourself and how they perceive your worth and value to people around you. 
A distorted self-image can impact your ability to function and damage your interpersonal relationships.
According to research, close to 40% of women and around 20% of men are affected by distorted self-image. What is self-image, is it the same as self-esteem, and what does it mean if your self-image is distorted?
What Is Self-Image?
There are many definitions for self-image, and while it has to do with the reflection you see when you look in the mirror, there's more to it that impacts our well-being, too. A more accurate definition explains that self-image is the compilation of impressions you have about yourself that build up over time.
How you perceive yourself – and how you picture yourself in your head – is a simplified definition of self-image, but it's often used interchangeably with terms like self-esteem and self-worth.
It's essential to know how these differ to understand the significance of self-image and the problems with it.
Self-Esteem vs Self-Image
Self-esteem can be based on our self-image (how we think of ourselves), but it pertains more to how much respect we have for ourselves and whether we feel positively or negatively about who we are.
Negative self-esteem often go hand-in-hand with a bad self-image, and our image of ourselves will undoubtedly influence our self-esteem.
On the other hand, self-worth has to do with how much value or worth you think you have as a person. It's more about how you value who you are than the things that you do.
Your inherent value and worth are core to how you feel about yourself and interact with others because we tend to build our expectations on what we think we deserve.
Self-image, then, is affected by our sense of worth and esteem, and it is influenced by how we look, feel in our skin, and measure ourselves against those around us.
What Is A Distorted Self-Image?
Explained most simply, a distorted self-image is when people have a negative perception of themselves. In most cases, these people see themselves and their physical bodies very differently from reality and how others perceive them.
While some have an elevated sense of self, and their distorted thinking sees them believing they are far better (or more attractive) than reality (like your classic narcissist), in most cases, people with a distorted self-image are dissatisfied, negative, and profoundly critical of their appearance.
Another description for a distorted self-image is that someone perceives themselves to be inaccurate in physical appearance, skill or talent, or intelligence – and whether others refute this or not, they continue to believe they aren't on par in these aspects. Generally, distorted self-image focuses on body image and skill set.
It's important to note that a distorted self-image is not about physical characteristics – it's mental, not physical. Their erroneous picture of themselves is in their minds, not in their mirror.
Experts suggest that more than half of females and more than a quarter of males in adolescence are dissatisfied with their bodies, and without intervention, it's likely to lead to a distorted self-image. This profoundly impacts thought patterns, behavior, emotions, and attitudes.
For an objectively more entertaining explanation of negative self-image, particularly as it pertains to the body, I recommend this video:
Distorted self-image can manifest like this in real life:
Signs and Symptoms of Distorted Self-Image
If you're wondering whether you or someone you love have a distorted self-image, here are some signs and symptoms to look out for.
It's important to note that while insecurity is relatively common, especially in adolescence, if you are dealing with most of the below, you may have a distorted self-image:
1. Feelings of shame, guilt, and inadequacy are common:
You constantly compare yourself to others or to earlier versions of yourself where you felt more attractive/capable. You feel ashamed of yourself and feel guilty for not being as good as you could be.
I felt this way for years and used to drink to hide from it.
2. You constantly feel worthless or second-guess your inherent value.
You also think you are entirely unattractive/incapable and thus feel you won't amount to anything or ever be happy (you won't find a partner).
3. You keep to yourself.
You tend to withdraw from social interactions or isolate yourself because you experience anxiety about being shown up. You expect others will not want you around or will notice your flaws as you do, so you would rather stay home.
4. Feeling depressed, harming yourself, or thinking about suicide can occur.
Those swept up in this sense of negativity and lack of self-worth often feel it is better to end their life than to try to "keep up" or improve their appearance/skills enough to be considered 'good enough.'
The Impact Of Poor Self-Image On Daily Life
While a poor self-image can occur in phases throughout life, and it's true that teenagers especially tend to be insecure about their appearance and perceived inadequacies, the long-term effects of poor self-image can be extremely harmful.
Those who experience a poor self-image constantly are much more likely to develop other mental health issues. While anxiety and depression are common, eating disorders and self-harm practices are more severe results.
Research also suggests that people with Borderline Personality Disorder (BPD) struggle with a distorted self-image, which affects everything from their relationships and career to their ability to manage basic emotions in daily life.
A poor self-image can thus also impact how you can hold down a job and maintain healthy relationships.
Those with a distorted self-image are less likely to feel confident and put in effort to succeed in school or work, and struggling to see themselves as they are will impact the expectations of a romantic partner too.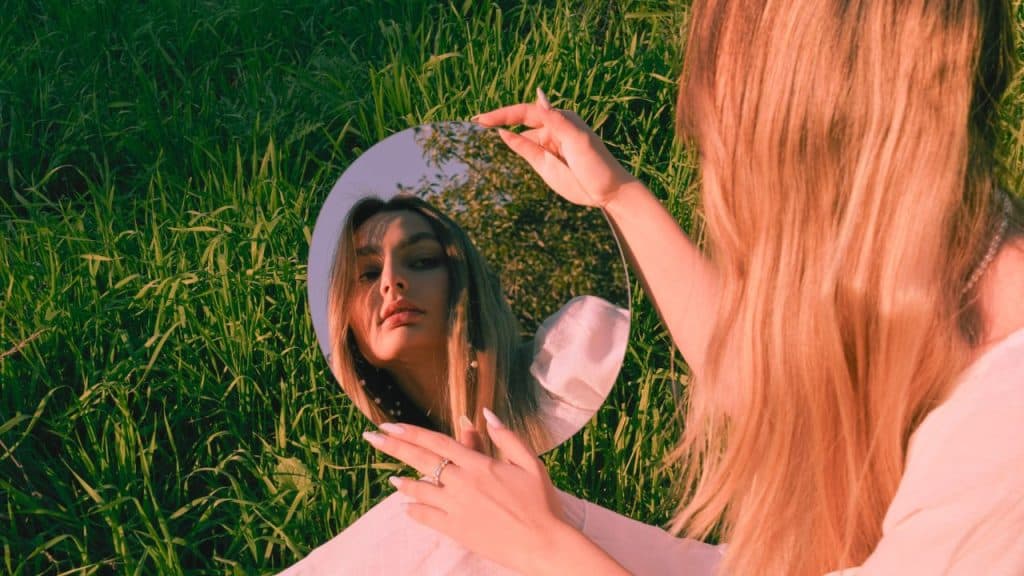 Causes of Distorted Self-Image
A distorted perception of ourselves is not something we are born with – it develops over time. So what causes it?
1. Negative Core Beliefs and Thinking Patterns
At the basis of a distorted self-image is the belief that what you have to offer the world dictates your worth. Those who think their appearance and their talents or skills make them valuable are likely to have a problem with self-image when they don't live up to the highest standards.
Core beliefs that looks, intelligence, and skills or talents are all-important will set people up for disappointment: we can never be the most attractive, the smartest, or the best at anything in the world.
Thinking patterns that support this notion will likely lead to distortion when we inevitably have bad times like putting on a bit of weight, having scars, being beaten at a sport, or not achieving academically, for example.
2. Physical Appearance and Body Weight
The most common area where a distorted self-image shows up is how we look.
Those unsatisfied with their physical appearance and body weight are more likely to experience a negative self-image. This can refer to being overweight or underweight – but it can also refer to being at an acceptable weight and perceiving this as not good enough.
This also extends to our physical attributes – nose shape and size, hair color, and skin tone are just a few examples that people may not be satisfied with.
3. Body Dysmorphic Disorder (BDD)
Body Dysmorphic Disorder (BDD) is a serious mental health issue that results in you seeing your own appearance incorrectly – and how you feel and think about your appearance affects your thoughts and behaviors so extensively that your quality of life suffers.
Sadly, this condition comes with a high risk of suicide and self-harm because the belief that your appearance is 'wrong' leads to frantic efforts to fix what you think is wrong with you, and, failing this, believing you are better off not being alive anymore. Left untreated, BDD can lead to:
Anxiety disorders
Eating disorders
Obsessive-compulsive disorders
Substance abuse
Self-harm
Suicide
4. Messages from the Media About Physical Appearance
Since most of our life is lived on social media, in films and TV, and measured by photographs, the overarching message has become that how we look and present ourselves to the world is all-important.
Furthermore, social media stars and influencers have become wildly successful in the last decade, giving the impression that how we look will determine our success.
Of course, the reality is very different.
When these celebrities are not in front of cameras, heavily made up, or boosted in looks by expensive surgeries, cosmetics, and camera tricks, they are as susceptible to flaws as anyone else. But, since this is rarely seen, the pressure to be perfect is intense.
For more on how social media, in particular, contributes to this, here's an after-school special-style video that I think does a good (and cute) job of explaining it:
5. Societal Expectations and Peer Pressure
Following the above issue, society has bought into the idea that only the smartest, most talented, and best-looking get recognition – and those are the most likely to be famous. In younger generations, fame equals success, which equals happiness.
In many ways, society has become distorted and focuses on people's outward appearance and random talents too much. Sadly, this also filters through in the youth (pun intended?), where peer pressure to be the best and look the best is a one-way ticket to popularity.
Studies bear this out as well. A Facebook study revealed that one in three teenage girls experienced negative self-image about their bodies because of Instagram. Among teenage girls who reported experiencing suicidal thoughts, 6% traced those feelings back to Instagram.
6. Genetics and Family Dynamics
Like many mental health conditions, a predisposition to issues like poor self-image can be present, triggered by incidents that seem to underscore the idea that looks and talent are everything.
And the thing is, some of us are genetically fated to inherit some physical traits that are slightly different from others.
Whether this refers to a specific feature like a big nose or heavy-set legs or a very light or dark skin tone, hair texture, or visible birthmark, we have little control over these issues. Those who come from families with a history of obesity, for example, are also likely to struggle with their weight.
Lastly, family dynamics will also set the tone for how self-image develops. Those raised in an environment that does not focus quite so much on looks and skill as a means of determining value are less likely to have a distorted sense of self.
On the other hand, children raised in a household where they either witness an obsession with looks and skill or are repeatedly chastised or criticized for their perceived lack of skill or attractiveness are more likely to have a distorted self-image.
Treatment Options for Distorted Self-Image
If you're concerned about yourself or a loved one after reading this far, rest assured there are options for dealing with a distorted self-image – and the sooner it's dealt with, the less damage it will do.
While some symptoms, such as anxiety and depression, can be alleviated through medications, intensive therapy is the best way to deal with distorted self-image. Cognitive Behavior Therapy has proven very effective in helping to reprogram negative thoughts and the corresponding behaviors.
If you or a loved one are struggling with eating disorders, substance use disorders, depression, self-harm, or suicide ideation, it's even more vital that you speak to a mental healthcare professional as a matter of urgency.

Explore Online Talk Therapy with BetterHelp
Get matched with a licensed therapist based on your individual preferences and needs. Therapy sessions are available via messaging, phone, or live video chat. Addiction specialists are available.
You don't have to do this alone. Learn about my BetterHelp experience here.
Get 10% off your first month with the code Soberish.
Soberish is proudly sponsored by BetterHelp
Resources:
https://positivepsychology.com/self-image/
https://www.psychalive.org/self-worth/
https://socalmentalhealth.com/distorted-self-image/#:~:text=On%20the%20other%20hand%2C%20a,themselves%20as%20others%20perceive%20them.
https://www.lifehack.org/901859/distorted-self-image
https://www.online-therapy.com/bpd/symptoms-of-borderline-personality-disorder#:~:text=Low%20self%2Desteem%20%2D%20Most%20people,self%2Desteem%20to%20get%20attention.
https://www.psychmechanics.com/distorted-self-image/
https://my.clevelandclinic.org/health/diseases/9888-body-dysmorphic-disorder
https://ezcareclinic.io/distorted-self-image-causes-symptoms-and-treatment/
Related Posts: