Does Alcohol Cause Inflammation? More Than You Might Think.
The prevalence of chronic disease in the US is rising at an alarming rate. Approximately 60% of adult Americans suffer from at least one chronic disease. I'm one of them.
The costs are high – an estimated $1 trillion in healthcare costs per year alone. When chronic disease productivity loss is considered, that price rises to a staggering $2 trillion annually.
When we talk about chronic disease, we're referring to conditions like diabetes, heart disease, cancer, stroke, arthritis, and inflammatory bowel disease (although there are many more).
One thing nearly all of these conditions have in common? Chronic inflammation.
Why is this happening? Why are there so many adults with chronic diseases?
In many cases, these chronic conditions are preventable. We know many common culprits: risky behaviors such as poor diet, lack of physical activity, tobacco use, and ignoring known risks like family history.
But there's one cause of inflammation and chronic disease we don't discuss nearly enough.
Alcohol.
Does alcohol cause inflammation?
Yes! Alcohol is a toxin and highly inflammatory to our bodies, and it can lead to tissue and organ damage when consumed in high quantities.
But how?
Alcohol-induced inflammation primarily impacts our gut and liver, which, in turn, has an inflammatory ripple effect throughout our body.
Alcohol causes inflammation in the body through a few key mechanisms. When we consume alcohol, it:
Why is alcohol inflammatory?
To understand why alcohol is inflammatory, it's best to start with the gut.
A 2010 study in the World Journal of Gastroenterology examined the role of alcohol in chronic inflammation.
Their research identified the key inducer of chronic inflammation as the gut microflora-derived lipopolysaccharide (LPS).
Alcohol increases the amount of LPS leakage from the gut. Colloquially, you may have heard this referred to as leaky gut.
When inflammatory LPS and other harmful bacteria are allowed to circulate freely, they can (and do) injure other organs.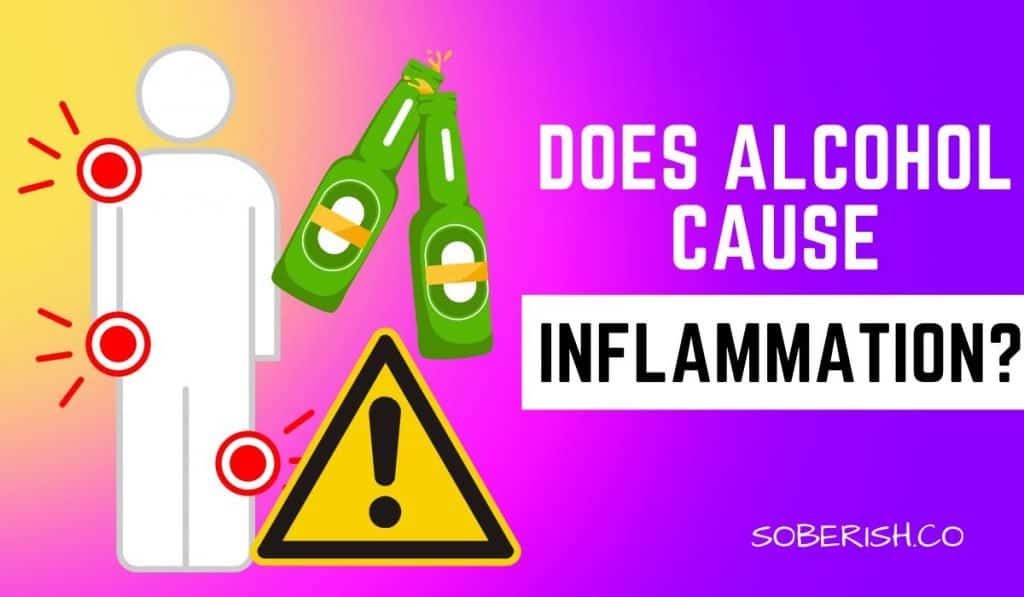 How does alcohol increase harmful bacteria in the body?
Alcohol has also been shown to induce intestinal inflammation, which increases the permeability of the intestinal lining. A weakened intestinal lining means more harmful bacteria, like LPS, can enter our bloodstream.
Additionally, the body's process of metabolizing alcohol releases toxic chemicals that trigger inflammation and kill liver cells.
Eventually, the harmful bacteria that escape the gut and the pro-inflammatory cytokines released by the liver during alcohol metabolization make their way into the brain, triggering neural inflammation associated with changes in mood, cognition, and drinking behavior.
Understanding Alcohol and Chronic Inflammation
To understand the complex ways alcohol causes inflammation, we first need to understand inflammation's role in our bodies.
What is inflammation?
Inflammation is not inherently harmful. It's a natural response in our body to a dangerous pathogen, tissue injury, or infection.
However, inflammation is a double-edged sword, equipped to destroy invading pathogens and equally capable of damaging healthy tissue.
Our bodies have built-in guardrails to keep inflammation in check.
We have anti-inflammatory systems in the central nervous system to switch off the inflammatory response after the injury or invading pathogen has been dealt with.
But what happens when those inflammatory responses don't (or can't) shut off?
We get chronic inflammation which leads to serious diseases such as heart disease, liver disease, diabetes, cancer, arthritis, and bowel diseases like Crohn's disease and ulcerative colitis.
Acute Inflammation vs. Chronic Inflammation
The Cleveland Clinic defines acute inflammation as "the response to sudden body damage." In this case, the sudden body damage is caused by ingesting alcohol, a toxin.
Acute alcohol-induced inflammation causes many immediate effects we associate with drinking, like headaches, nausea, puffiness, swelling, and alcoholic gastritis.
Chronic inflammation occurs when your body continues sending inflammatory cells even when there is no outside danger. When this happens, the body's immune system starts attacking healthy tissue, as with conditions like arthritis.
When you drink alcohol chronically, as little as one drink per day (or its equivalent), you trigger a chain of events inside the body that leads to chronic inflammation and all the negative health outcomes that come with it.
Alcohol-Induced Inflammation and Chronic Disease
Next, let's break down how alcohol-induced inflammation impacts different body systems and how that impact can (and does) lead to chronic disease.
Alcohol and Gut-Derived Inflammation
Alcohol disrupts the gut and causes inflammation in two significant ways:
By killing healthy bacteria, and
Allowing bad bacteria to escape into the bloodstream
Alcohol irritates the gut. Even small amounts of alcohol can cause alcoholic gastritis.
Drinking alcohol, even in moderate amounts, can change the composition of your gut's microbiome by decreasing the number of good bacteria and increasing the number of pro-inflammatory bacteria.
Over time this can lead to chronic problems like bloating, distension, IBS, and small intestine bacterial overgrowth.
It's been well-documented that heavy alcohol consumption causes increased gut permeability and LPS leakage, even without liver disease.
Studies show it takes at least two weeks of abstinence from alcohol to return gut permeability to a stable baseline.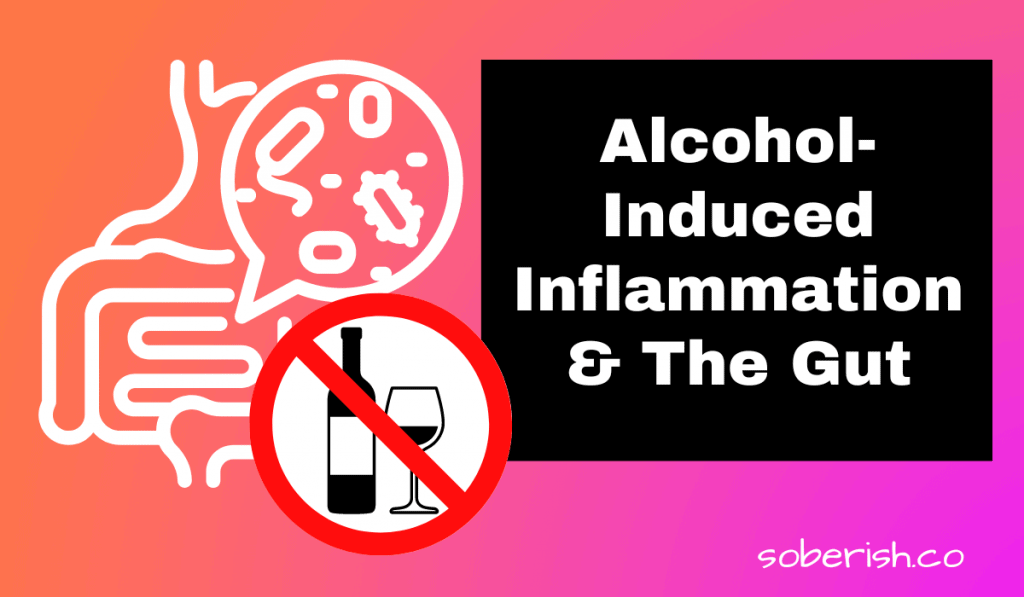 Dysbiosis
Simply put, gut dysbiosis occurs when the healthy balance of bacteria and gut microflora is disrupted.
And what disrupts the balance of "good" and harmful bacteria in the gut?
Alcohol!
Bacterial Overgrowth
Studies have also shown a link between chronic alcohol consumption and bacterial overgrowth. It's unclear if alcohol directly causes the overgrowth or if it inadvertently damages the body's digestive and intestinal function.
Intestinal Permeability
Alcohol irritates the intestinal lining and leads to increased gut permeability. The intestinal barrier serves an important function. It acts as a filter, regulating the passage of materials between the GI tract and the bloodstream.
In a healthy gut, the intestinal barrier allows the absorption of nutrients into the bloodstream while preventing toxic substances from getting out.
When that barrier becomes weakened or compromised, more toxic, inflammatory materials, like LPS, can enter the bloodstream and the rest of our body.
Alcohol and GI Cancers
A Korean study conducted between 2009 and 2017 with an impressive 11,737,467 participants found a direct correlation between frequent drinking, even at low doses (1-2 units per day), and gastrointestinal cancer risk.
This includes cancer of the:
esophagus
colorectum
liver
stomach
pancreas
What is interesting about this study is that frequency seemed to be a more significant risk factor than volume. Even low or moderate daily drinking increases your risk of GI cancers.
Alcohol and Inflammatory Bowel Disease (IBD)
Alcohol can trigger flare-ups of Inflammatory Bowel Disease (IBD). Researchers believe this is due to alcohol's pro-oxidant effects and its negative impact on gut permeability.
While scientists don't believe alcohol-induced inflammation directly causes ulcerative colitis, it can exacerbate IBD symptoms and interact negatively with IBD medications.
Medications already strain the liver's ability to detoxify the body. Adding alcohol into the mix makes the liver's job even more difficult.
It's just not worth it.
Alcoholic Hepatitis and Cirrhosis
Alcohol-induced inflammation can lead to a condition called alcoholic hepatitis – inflammation of the liver caused by alcohol.
This disease can occur in people who drink moderate to high volumes of alcohol. Symptoms of alcoholic hepatitis include:
Nausea
Vomiting
Loss of appetite
Abdominal tenderness
Low-grade fever
Fatigue
Weakness
If alcoholic hepatitis and chronic alcohol abuse continue, it can lead to cirrhosis – scarring of the liver.
Every time your liver is injured, like when you drink alcohol, it tries to repair itself, which can cause scar tissue to form.
The more scar tissue on the liver, the harder it is for the liver to function.
Oxidative stress and inflammation are integral in chronic liver disease (CLD). Cirrhosis is the end-stage of CLD and is often fatal.
More>> How Long Does It Take The Liver To Heal After Quitting Alcohol?
Disrupted Immune Response
The journal Alcohol Research: Current Reviews (ARCR) published evidence that alcohol-induced inflammation disrupts immune pathways in the body in truly complex ways.
This disruption has the following consequences:
Impairs the body's ability to defend against infection
Contributes to organ damage from alcohol consumption
Impedes the body's ability to heal tissue injury
But why does alcohol do this?
Again, it goes back to the gut. Scientists believe it has to do with alcohol's impact on gut permeability. Leakage of harmful bacteria from the gut triggers an immune response in the liver, which leads to increased inflammation.
Alcohol has also been shown to slow the intestine's immune response and suppress a variety of molecules and cells that are necessary for a healthy immune system.
It's not just chronic drinking, either. Acute binge drinking can lead to lowered immunity, as demonstrated in this experiment conducted by the BBC.
Heart Disease
Alcohol-induced inflammation has also been linked to an increased risk of heart disease. Doctors check for the risk of coronary artery disease by testing for high-sensitivity C-reactive protein (hs-CRP). This can be done via simple bloodwork.
One study found that people who drank heavily had higher levels of hs-CRP, the inflammation marker for heart disease.
Additionally, chronic consumption of alcohol has been linked to alcoholic cardiomyopathy, a condition where your heart changes shape.
Joint and Muscle Conditions
There are a few ways that alcohol-induced inflammation can impact joints and muscles.
First, the dehydrating effects of alcohol can reduce lubrication between joints which, in turn, can cause joint pain and inflammation.
Alcohol has also worsened pre-existing conditions that cause joint pain, swelling, and inflammation. These conditions include:
Autoimmune conditions
Gout
Fibromyalgia
Osteoarthritis
Anyone with chronic, inflammatory diseases would do best to avoid drinking alcohol.
More>> Can You Sweat Out Alcohol?
Brain Damage
Alcohol easily passes through the blood-brain barrier, gaining access to the brain and disrupting its ability to function normally.
Excessive drinking can lead to brain damage and cognitive dysfunction.
Repeated exposure to alcohol in the brain can lead to long-term activation of inflammatory chemicals to neuronal death and prevent nerve tissue growth and development.
Additionally, alcohol shrinks the brain, reducing the volume of white and gray matter.
White matter is responsible for problem-solving, multitasking, and memory. Gray matter deals with movement, coordination, memory, and emotions.
Alcohol also activates the HPA axis because the body sees the ingestion of alcohol as a stressful event. When we frequently drink, even the equivalent of one drink per day, we throw our body's stress response system out of wack.
The HPA axis starts to tolerate the amount of alcohol and becomes uncoupled from our sympathetic nervous system (SNS).
The result is an increase in anxiety and stress.
Stress triggers an inflammatory response throughout our body, which is why chronic stress has been connected to many chronic diseases.
If you're interested in alcohol's effects on the brain, I highly recommend watching this segment from Huberman Lab:
Mental Health Conditions
Alcohol not only exacerbates pre-existing inflammatory conditions, but it can worsen symptoms of anxiety, OCD, bipolar disorder, and depression, too.
Studies show that nearly 41% of patients with a lifelong major depressive disorder also have an alcohol use disorder.
It even happens with acute inflammation from alcohol. Ever woken up from a night of binge drinking with a terrible case of 'hangxiety?'
Alcohol is inflammatory to the gut and brain, impacting our mental well-being. There is increasingly strong evidence that depression may be associated with immune activation caused by systemic inflammation in the body.
It's why ongoing research examines the efficacy of anti-inflammatory interventions as a treatment for depression.
More>> Why Alcohol Changes Your Personality
Can alcohol-induced inflammation be reversed?
Now that we've explored how alcohol causes inflammation throughout the body, the question becomes, "Can we reverse it?"
The answer is a resounding: it depends.
Acute inflammation caused by alcohol usually resolves in a few days, provided you do not drink again. This is the swelling, bloating, puffiness, and headaches we typically associate with a rough night of drinking.
Chronic inflammation from alcohol is a different story.
Some cases of alcohol-induced inflammation have progressed so far, as with cirrhosis and wet brain, that it becomes a fatal, irreversible condition.
But for most people, there is reason to believe at least some of these effects can be reversed with the right interventions.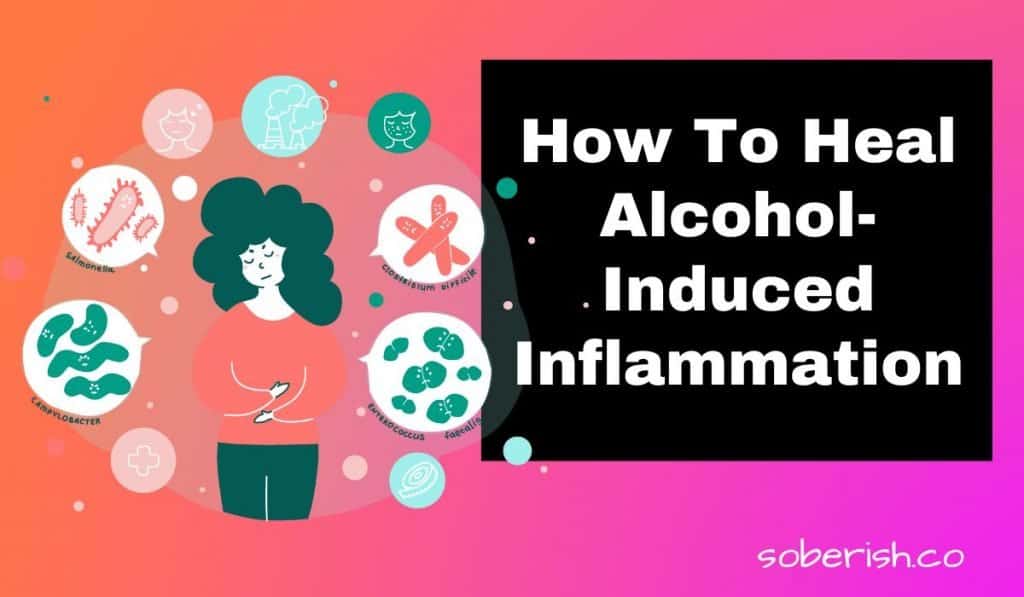 1. Quit or significantly cut back on drinking alcohol.
Dr. Andrew Hubermann has an incredible podcast on the effects of alcohol (which I referenced previously) that I'll post at the bottom of this section.
In his estimation, given what we know about alcohol and how little of it causes inflammation, you can likely enjoy a drink every couple of weeks. Beyond that, you risk meaningful levels of inflammation from alcohol.
Suppose you drink even one unit of alcohol (a bottle of beer, for example) per day, or the equivalent by stacking several drinks in a single session on the weekends. In that case, you are at risk for alcohol-induced inflammation.
As unpopular as this may sound, if you want to protect yourself from inflammation, you should probably quit drinking altogether.
If you need extra motivation, check out these unexpected benefits of quitting alcohol.
2. Stay hydrated.
Alcohol is very dehydrating, one of the many reasons it is inflammatory. If you want to offset some of the negative effects of alcohol, you can start by staying hydrated, especially while drinking alcohol.
If you have a glass of alcohol, follow it up with at least 8 ounces of water.
Of course, if you have several units of alcohol, those intermediate water breaks matter less and less.
3. Exercise
We know that exercise has a number of benefits, but recent studies have shown that even one session of moderate exercise can have anti-inflammatory benefits.
How much exercise?
According to a study from the University of California San Diego School of Medicine, just 20 minutes of moderate exercise can stimulate the immune system and produce an anti-inflammatory cellular response.
Does this mean you can outrun a regular Saturday night bender? No, but you can enjoy the anti-inflammatory benefits that exercise can contribute to a healthy lifestyle.
4. Eat anti-inflammatory foods.
If you want to reduce inflammation, consider adjusting your diet. Increase the number of anti-inflammatory food in your diet and decrease the number of inflammatory food.
Examples of anti-inflammatory food include:
tomatoes
olive oil
green leafy vegetables, such as spinach, kale, and collards
nuts like almonds and walnuts
fatty fish like salmon, mackerel, tuna, and sardines
fruits such as strawberries, blueberries, cherries, and oranges
Examples of inflammatory food to avoid include:
refined carbohydrates, such as white bread and pastries
French fries and other fried foods
soda and other sugar-sweetened beverages
red meat (burgers, steaks) and processed meat (hot dogs, sausage)
margarine, shortening, and lard
5. Get some sleep.
Sleep deprivation is associated with inflammation in the body. That's one reason why prioritizing healthy sleep habits is essential, especially if you want to reduce inflammation in the body.
Many of these things are interconnected. A lack of sleep leads to increased stress levels, which causes inflammation, which may lead people to drink more alcohol, which causes even more inflammation, and round and round we go.
That's why taking a holistic approach to reducing inflammation is so important. There's not one perfect intervention. It requires a whole body, whole lifestyle approach.
Does Alcohol Cause Inflammation? Final Thoughts:
Perhaps the most concerning aspect of alcohol-induced inflammation is how systemic it is. It's not limited to the gut or liver.
The way alcohol causes inflammation that triggers a series of interconnected inflammatory responses throughout the body should be concerning to anyone who drinks alcohol.
It impairs our liver's ability to function, affects mood, our ability to think clearly or manage stress, and harms our immune system.
Even more staggering is how little alcohol it actually takes to trigger an inflammatory response.
The good news is we can prevent alcohol-induced inflammation from wreaking havoc. The bad news (for some) is that it requires us to quit or drastically cut back our alcohol intake.
But you can do it! And if you need help, the Soberish community is available to support you.
You might also want to consider working with a therapist or counselor if quitting on your own proves difficult or if you have a history of alcohol abuse.