Depressed After Quitting Drinking? This Is Why It Happens.
For many people, alcohol is a way to escape mental health issues like depression and anxiety. Science tells us that self-medicating with alcohol actually makes our mental health worse, so we expect to find relief in sobriety.
But what if we don't find relief? What if we find ourselves sick and depressed instead?
Depression After Quitting Drinking: Why It Happens
Depression after quitting alcohol is common for several reasons:
Drinking alcohol changes your brain circuitry and neurochemistry in ways that lead to depressed mood, lower feelings of self-worth, and increased stress and anxiety levels.
Alcohol exacerbates pre-existing mental health conditions like depression and anxiety.
Because people use alcohol to self-medicate depression, upon quitting, these symptoms intensify, especially if left untreated.
Alcohol use depresses levels of dopamine and serotonin in the body.
Some people experience high levels of loneliness and boredom in early sobriety, which contributes to feelings of depression.
So for individuals who suffer from depression and abuse alcohol, it's not that giving up alcohol makes you depressed. That implies sobriety is the root cause of your depression, which it's not. Alcohol actually exacerbates existing mental health problems and, in some cases, causes them by chemically changing the brain.
That latter point, combined with the withdrawal process, makes you feel like things will never be good again. Understanding why it happens can help you get through it with realistic expectations.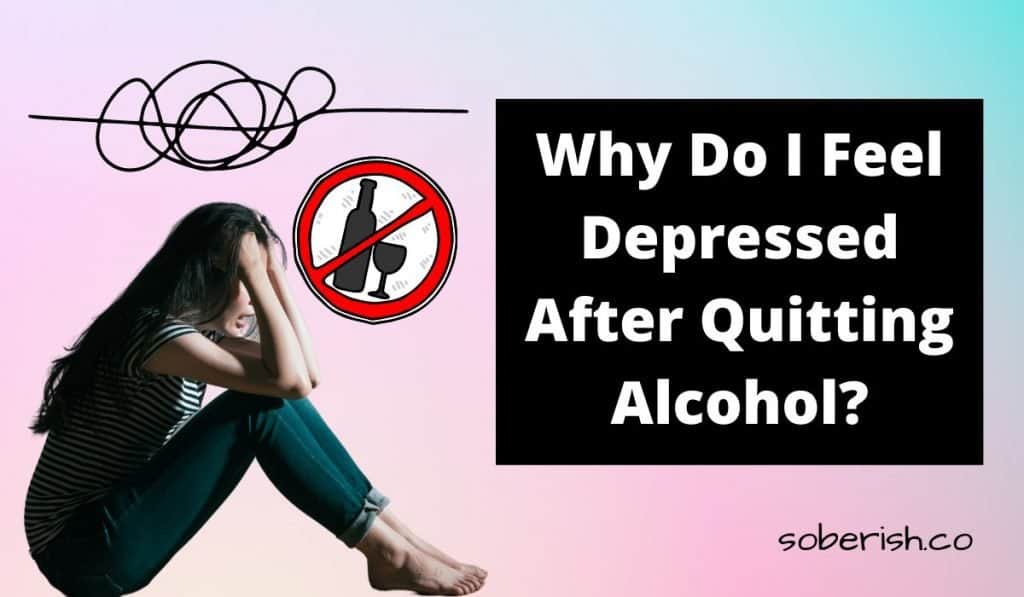 Dopamine plays a big part.
A big reason many people experience depression after giving up alcohol involves alcohol's impact on the brain.
Dopamine is a neurotransmitter, which means it acts as a chemical messenger between neurons. It plays a critical role in the reward system in our brain. You may have heard it referred to as the "feel-good" chemical.
Our brains release dopamine in response to or anticipation of things we enjoy, like certain foods, sex, buying a new shirt, or seeing a loved one.
These elevated dopamine levels tell your brain, "Hey, this is pretty awesome!"
The anticipation of that same thing will raise your dopamine levels in the future. It's why smelling Thanksgiving dinner from the living room can be such a maddening experience. You are craving something you can't quite have yet. That's dopamine at work, too.
If an emergency arose and you could no longer stay and enjoy Thanksgiving dinner, your dopamine levels would drop and take your mood along with it.
How Alcohol Impacts Dopamine Levels
Alcohol artificially elevates dopamine levels in your brain in a big way. When we drink, the reward system in the brain gets switched on, and we start to feel amazing. That's the initial buzz of the first drink or two at work.
Except now, our brains have to adjust.
The brain likes balance. Alcohol creates a chemical imbalance by flooding the brain with dopamine. So it attempts to correct things by producing more GABA, the inhibitory neurotransmitter that calms things down.
As you continue to drink, your disposition goes from euphoric to slow, slurred, and sloppy.
Your personality might start to change, and you can experience huge mood swings.
Long-Term Effects of Alcohol on Dopamine Levels
If dopamine levels in your brain are constantly elevated by alcohol, your brain will rely on alcohol for dopamine.
Eventually, your brain will make less of it on its own. Additionally, it will reduce the number of dopamine receptors available.
This last process is called downregulation.
It's the brain's reaction to the constant flood of dopamine from alcohol. The fewer receptor sites you have, the more of a substance you need to get the same effect.
When that happens, your brain no longer functions normally without alcohol.
When you quit drinking, you deprive your brain of its primary source of dopamine. With fewer dopamine receptors in the brain, it becomes significantly more difficult to experience pleasure or joy.
How Long Does Depression Last After You Quit Drinking?
That is the million-dollar question with an unsatisfying answer: it depends.
There are many factors to consider, such as genetics, how much you drank and for how long, the extent of damage, and pre-existing mental health problems.
According to American Addiction Centers, acute mental health responses like severe anxiety and depression often resolve by the fourth or fifth day of sobriety. However, milder, lingering episodes of anxiety and depression can go on for 3-6 months after your last drink.
Anhedonia in Early Recovery
An-ha-what? Anhedonia is the feeling that nothing will be good again. It is an inability to experience pleasure, even in things you once enjoyed.
Often when people talk about feeling depressed after giving up alcohol, they are referring to this.
Additional symptoms include:
inability to experience pleasure
food loses its taste/is bland
physical touch is no longer comforting
sex is no longer enjoyable, or you stop having it altogether
People in early recovery experience anhedonia because of the way alcohol changes the structure of the brain.
Even though your brain will begin to produce higher dopamine levels after quitting drinking, with fewer receptors available, it can't get where it needs to go.
The result is a miserable feeling that nothing will ever be good again.
The hopeful news is that this depressed feeling is temporary.
How do you recover from anhedonia in sobriety?
First and foremost, you need to give yourself time. Drinking doesn't change the structure of your brain overnight, and it won't be fixed that way, either. 
As your brain gets used to a normal amount of dopamine, it will start to reopen dopamine receptors. As that happens, your mood will improve.
Additionally, you can try to increase dopamine naturally.
Here's how you do that:
Exercise regularly
Get enough sleep, 7-9 hours
Take probiotics – you can get these through naturally fermented foods or take them in supplement form. I recommend this one.
Supplements – There are supplements you can take to help boost dopamine. Consult with your doctor before starting. They include magnesium, Ginkgo Biloba, and curcumin.*
Get enough protein.
Meditation.
*Again, check with your doctor or mental health specialist before starting any supplements. They can best tell which to take, how much, and how often.
When will you feel better?
I wish had a precise answer for you, but I don't. There are so many factors at play. Some people feel better within a couple of weeks. It takes others up to 90 days to start to feel "normal" again.
It's really important to go into sobriety, understanding that you might feel bad in the beginning, why that happens, and ultimately, it is temporary.
One of the best things you can do for your sobriety is to keep the bigger picture in mind. You feel bad now because your brain is trying to repair the damage from drinking. It is temporary.
Your brain will readjust, and the fog will lift. 
Symptoms of Depression
If you have a history of depression or anxiety disorders and used to self-medicate with alcohol, your symptoms will likely increase when you quit. This can also explain why you feel depressed after quitting drinking.
It's important to keep track of your symptoms. If they become overwhelming, you'll need to get additional support.
Depressive symptoms include:
Persistent feelings of sadness, hopelessness, and worthlessness
Loss of interest or pleasure in previously enjoyable activities
Changes in appetite and weight (either weight gain or loss)
Difficulty sleeping or oversleeping
Difficulty concentrating or making decisions
Fatigue or loss of energy
Physical agitation or slowing of movements
Thoughts of death or suicide
If you experience any of these symptoms and they are interfering with your daily life and/or putting you at major risk for relapse, do not be afraid to reach out to your doctor.
It can feel like an extra step that you don't have time or bandwidth for, but it's important.
Getting Treatment For Depression After Quitting Drinking
If you are experiencing symptoms of depression in sobriety, it is important to speak to your doctor. It is common for people to require separate treatment for depression and alcohol abuse. They are co-occurring disorders.
Co-occurring disorders are defined as the co-existence of a mental health problem and a substance abuse disorder. It's common, affecting nearly 37.9% of people with substance abuse issues.
If this is you, do not feel ashamed or hopeless. Reaching out for help early in sobriety will increase your chance of feeling better sooner and avoiding relapse.
Of course, that is easier said than done, which is why it is incredibly important to have a support system in place as you go through this process. Recovery groups like AA or SMART Recovery are great resources.
So is talk therapy with a mental health specialist who understands addiction and substance abuse.
A lot of people do both. If your emotional world starts feeling unbearable, don't be afraid to consult with your doctor to talk about medication.
Treatment for depression coupled with sobriety and healthy lifestyle changes such as improved diet and exercise will help you get to the good parts of sobriety.
If you're feeling at all overwhelmed and don't know where to find a support community, we have a private Soberish Facebook group ready to receive you.
Additional reasons you might feel depressed when you quit drinking:
In addition to all the reasons we just discussed, it's important to note that sometimes you feel depressed after quitting because you're wrestling with some big emotions you don't typically allow yourself to feel.
When you drink alcohol in the face of everyday stresses and problems, you lose your ability to deal with them in healthy ways.
It takes time to learn how to deal with overbearing bosses, failed relationships, loss, boredom, and grief when you don't drink.
It's also okay to admit that quitting alcohol feels like a loss.
You're giving up something that used to be a big part of your life. Yes, that thing was harming you, but it also played a starring role in some of your biggest life moments. It's baked into our social lives.
Chances are you are reading this from a country with a big drinking culture. When you give up alcohol, it can feel like you're setting yourself up to be excluded. (You're not, but it can feel that way at first.)
Maybe you're grieving the loss of friendships with old drinking buddies. Or maybe you're struggling to forgive yourself for drunken mistakes you can't take back.
This part of sobriety is hard, but it is not permanent. You can recover.
If you want to learn more about the early days of sobriety and mental health, check out these additional resources:
FAQs about Depression After Quitting Alcohol
---