Is Ginger Beer Alcoholic? – A Brief History of Ginger Beer
What is ginger beer?
Ginger beer is one of the great misnomers of the beverage aisle. It says 'beer' right on the label, but is it?
In short, no. This niche carbonated beverage does have (slightly) alcoholic origins. It was first made in Yorkshire, England, and quickly gained popularity throughout the UK in the 18th century. Originally, it was a fermented drink made with ginger (of course), sugar, spice, and yeast with an alcohol content of upwards of 11%, although most versions contained a negligible amount of 2% to comply with excise tax laws.
Modern-Day Ginger Beer
Today's ginger beer is more akin to soda. That's because, more often than not, it is manufactured instead of brewed. Why the change? For the most part, you can thank the Prohibition Era of the 1920s when ginger beer lovers sought a completely non-alcoholic version.
Nowadays, ginger beers are made in a variety of ways. Some are fermented with champagne yeast and others are finished with forced carbonation like other soft drinks. You'll even find some ginger beers that are basically ginger ale with extra ginger. This only adds to the confusion.
You still have companies creating a traditional, brewed ginger beer, but with minimal alcohol content like its kombucha counterparts. Let's look at that process for a moment.
How good ginger beer is made.
Ginger beer is brewed using a colony of yeast and Lactobacillus (oh hey friendly gut bacteria) called a "Ginger Beer Plant."
Wait, it's a plant?
No, it's not a plant. But ginger beer isn't a beer so here we are.
Much like Daenerys Targaryen, Ginger Beer Plant (GBP) goes by a few other names including bees wine, Palestinian bees, Californian bees, and balm of Gilead. The important takeaway here is that ginger beer starts with a symbiotic culture of yeast and bacteria, aka SCOBY, just like kombucha.
Honestly, wrapping your head around GBP is the hardest part. Ginger beer is brewed by combining GBP, water, ginger, sugar, lemon juice, and spices and letting them ferment for days.
Bing. Bang. Boom. Ginger beer.
Ginger Beer vs Ginger Ale
Traditionally, the difference between the two has been that ginger beer is fermented while ginger ale is basically a ginger-flavored soda.
Flavor-wise, the primary difference between the two is that ginger beer has a more punchy, ginger flavor. Ginger beer is also darker in color than ginger ale (typically).
Is ginger beer healthy?
Honestly, it depends on the brand and the amount of sugar used to make it. Ginger has some notable health benefits. Many of us grew up with ginger ale as the primary medicine proscribed by moms for an upset stomach. It might also have anti-inflammatory properties.
Beyond that, I wouldn't classify ginger beer as a health drink. I would, however, recommend it as a great alcohol substitute and mocktail mixer. If you were a beer or cider drinker, ginger beer is a great, non-alcoholic option for fizzy, spicy, ginger-goodness.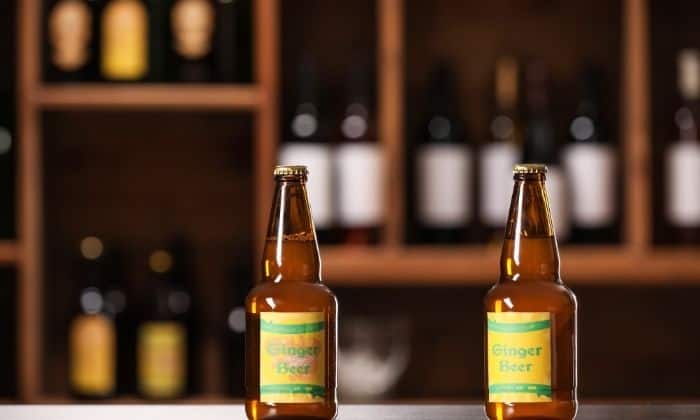 Popular Mocktails with Ginger Beer
Ginger beer is a great mixer for fancy mocktails. Ginger beer is a popular ingredient in Moscow Mules and works great in non-alcoholic versions. There are many other mocktail recipes that use ginger beer and they are delicious!
Here are some favorites you might enjoy:
Popular Ginger Beer Brands
If you're interested in trying ginger beer, there are a ton of great options out there. As is the case with kombucha and other craft beverages, there are plenty of innovative flavor combinations on the market.
Whether you're looking for a high-quality ginger beer for mocktails or something to have on its own, you have plenty to choose from.
Here are some personal favorites you might also enjoy:
1. Fever-Tree Premium Ginger Beer
QUALITY INGREDIENTS: By brewing a blend of three gingers from Nigeria, Cochin and the Ivory Coast, we have created an award-winning ginger beer that has been highly acclaimed by gastronomes and critics alike
FLAVOR: Not too sweet on the palate and with a deep long-lasting ginger character. As the liquid passes through the palate the ginger will fill the whole mouth, leaving a warmth at the back of the throat
NATURALLY SOURCED: Made with three types of ginger, Fever-Tree Ginger Beer has the aroma of freshly grated ginger. Our Ginger-Beer has no artificial sweeteners, flavorings or preservatives
PREMIUM MIXER: Perfectly balanced to be mixed with the finest spirits or equally delicious as a sophisticated soft drink on its own
TEXTURE: A smooth, silky texture created by the small, perfectly formed bubbles and ingredients
2. Q Mixers Hibiscus Ginger Beer
BOLD, AUTHENTIC FLAVOR: A fresh twist on our classic Ginger Beer with the addition of a hint of hibiscus and rose hips
REAL INGREDIENTS: Made with organic gave, real ginger, hibiscus flowers, and rose hips
ALL NATURAL: No High Fructose Corn Syrup, No artificial flavors or preservatives
REFRESHING: More carbonation so your favorite drink stays fizzier longer
CERTIFIED NON-GMO and Kosher
Packaging may vary
3. Bundaberg Ginger Beer
Includes 24 (6.8oz) cans of the iconic Bundaberg Ginger Beer
Perfect for weekend adventures, a lunchtime treat or to mix your favorite cocktail, the Bundaberg Ginger Beer can is the convenient way to enjoy the brew you love
Crafted using homegrown Aussie ginger, including ginger from our very own farm
Our Master Brewers craft brew over 3 days to our traditional family recipe; the same we've used for 4 generations
Real Australian Ginger - Brewed over 3 days - Australian family owned - Best enjoyed chilled
4. Barritt's Original Ginger Beer
BUY THE 24 PACK IT'S CHEAPER (BC OF SHIPPING) PER CAN!! (12pk = $2.67/can vs 24pk = $1.67/can)
THE MIXER THAT LIFTS YOUR SPIRITS: Whether you prefer to drink whiskey, tequila, vodka, sangria, gin, rum, beer, a Moscow mule or a margarita mix, Barritt's real ginger beer is the perfect way to spice up your cocktails. Coming to you in our retro packaging, Barritt's is a versatile cocktail mixer that will quickly become a must-have accessory for your home bar.
BOLD, FLAVORFUL, SPICY: Our natural, unique, delicious drinks are loved internationally. Our zesty ginger beer helps you create sophisticated cocktails that you will be proud to call your own. Flavored with real ginger and our proprietary blend, Barritt's products satisfy your need for quality mixers.
LIFE OF THE PARTY: Whether you are throwing a bachelorette or bachelor party, a birthday party, or another adult celebration, Barritt's Ginger Beer should top the list of needed supplies. Looking for accessories to add to your home bar equipment? Keep a case of ginger beer on hand, and your party attendees will thank you!
FAMILY OWNED: Barritt's Ginger Beer is a treasured family brand operated by the Barritts for 5 generations! Established in 1874, our non-alcoholic soft drink products originated in Bermuda and are used by both professional and home mixologists as their secret weapon for creating both classic and modern cocktails.
Bottom Line
Ginger beer is non-alcoholic. It's delicious. And if you're looking for an alcohol-free option that pack a punch, this one might be for you.
FAQs about Ginger Beer
Can you get drunk off ginger beer?
No. Despite the name, there is no beer in ginger beer. It is a non-alcoholic beverage.
Are all ginger beers non-alcoholic?
The vast majority of ginger beer is non-alcoholic. There is a popular alcoholic brand of ginger beer called Crabbies, so there are a few exceptions.
Is ginger beer really beer?
No. The primary similarity between ginger beer and alcoholic beer is that both are a fermented drink. However, contemporary ginger beer is more akin to a spicy ginger ale than ale.
Do you have to be 21 to buy ginger beer?
Unless you are buying an alcoholic ginger beer like Crabbies, you do not have to be 21 to buy ginger beer. It is essentially a soft drink.