85 Quotes About Ghosting To Help You Make Sense Of It All
Ghosting is harsh.
And yet, it's increasingly common in today's dating scene. Ghosting even creeps into our friendships and work relationships.
But why?
For whatever reason, large swaths of the population have become so allergic to uncomfortable conversations they've opted out of them completely.
Unfortunately, the decision to ghost is not victimless. There's a person on the receiving end left to wonder what they did wrong and craving closure that will never come.
If that is you right now, I hope these quotes about ghosting can be cathartic as you try to move on.
Quotes About Ghosting (For The People Who Do It)
Let's start with the quotes that capture the psyche of people who leave. Leave what, you might ask? Everything.
People, places, jobs.
These quotes are for the runners, the soft ghosters, and even the reluctant ghosters who feel guilty.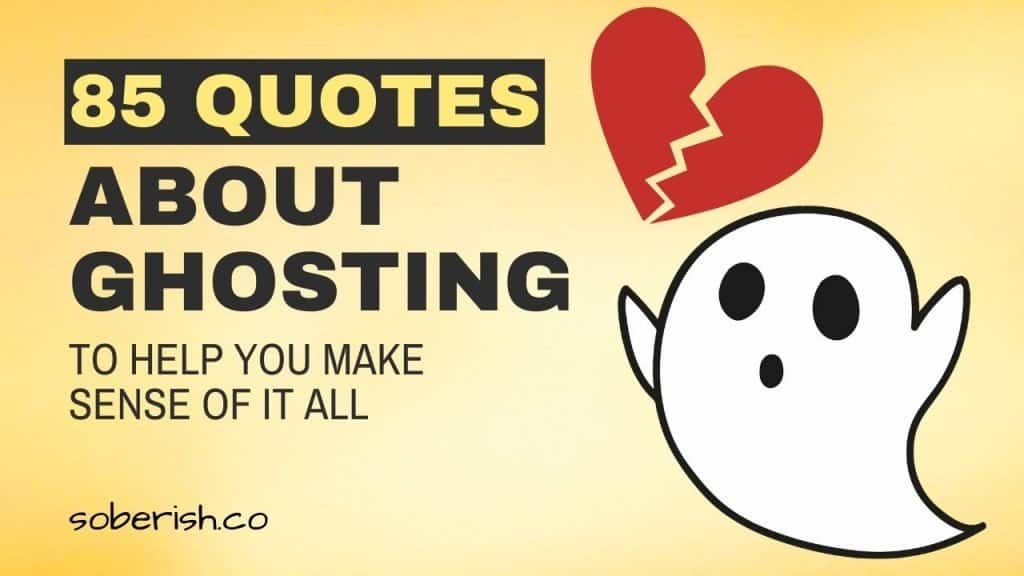 On Ghosting:
1. "A man never knows how to say goodbye; a woman never knows when to say it."
– Helen Rowland
2. "You get used to someone—start to like them, even—and they leave. In the end, everyone leaves."
― Rachel Ward, Numbers
3. "The only thing more unthinkable than leaving was staying; the only thing more impossible than staying was leaving. I didn't want to destroy anything or anybody. I just wanted to slip quietly out the back door, without causing any fuss or consequences, and then not stop running until I reached Greenland."
― Elizabeth Gilbert, Eat, Pray, Love
4. "I hated myself for going, why couldn't I be the kind of person who stays?"
― Jonathan Safran Foer, Extremely Loud & Incredibly Close
5. "They were involved in that awkward procedure of getting to unknow each other."
― John Irving, The World According to Garp
6. "I leave, and the leaving is so exhilarating I know I can never go back. But then what? Do I just keep leaving places, and leaving them, and leaving them, tramping a perpetual journey?"
― John Green, Paper Towns
7. "I don't understand how I can know so little about love and how it works. How I can be so bad at it when it's all I've ever wanted?
8. "All I've ever known is about leaving or being left."
― Carrie Ryan, The Dark and Hollow Places
9. "Once you'd resolved to go, there was nothing to it at all."
― Jeannette Walls, The Glass Castle
10. "It becomes easy to leave once you realize you didn't belong there."
― Farhad Writings
11. "You know how it feels when you're someplace and you ask yourself, Why am I here? That's how it is with me all the time. I can't wait to leave. To go from wherever I am to some other place. It never ends."
― Etgar Keret, The Girl on the Fridge
12. "The only way to leave forever is to do so as quickly as possible."
― Anna Godbersen, Splendor
13. "Life is just a slide. Back and forth between loving and leaving, remembering and forgetting, holding on and letting go."
― Nicole Lyons
14. "Sometimes you have to unfollow people in real life." — Unknown
Quotes That Capture How It Feels to Get Ghosted
Getting ghosted feels disorienting.
You don't know what happened or why they did it. Should you call them out for ghosting or forget they existed?
You're angry, hurt, confused, and mostly wishing you could stop caring about them and get on with your life.
If that's your headspace, you may find these quotes relatable.
On Being Ghosted:
15. "The most difficult aspect of moving on is accepting that the other person already did."
― Faraaz Kazi
16. "The most painful goodbyes are the ones that are left unsaid and never explained." — Jonathan Harnisch, Freak
17. "Love can sometimes be magic.
But magic can sometimes… just be an illusion."
― Javan
18. "I think you are wrong to want a heart. It makes most people unhappy. If you only knew it, you are in luck not to have a heart." ― L. Frank Baum, The Wonderful Wizard of Oz
19. "Out of the millions and millions of people that inhabit this planet, he is one of the tiny few I can never have."
— Tabitha Suzuma, Forbidden
20. "So it's true, when all is said and done, grief is the price we pay for love."
― E.A. Bucchianeri, Brushstrokes of a Gadfly
21. "He is very dreamy, but he is not the sun. You are."
—Christina Yang, Grey's Anatomy
22. "You didn't break my heart; you freed it."
— Steve Maraboli
23. "If you start to miss me, remember: I didn't walk away, you let me go."
— Unknown
24. "My ex is living proof of how stupid I can be"
— ​Unknown
25. "Not friends, not enemies, just strangers with some memories"
—​ Unknown
26. "But if your boyfriend, out of nowhere and with no advance warning whatsoever, dumps you for no apparent reason, is it really about you? Or is it all him?"
― Susane Colasanti, Take Me There
27. "This is a good sign, having a broken heart. It means we have tried for something."
— Elizabeth Gilbert, Eat, Pray, Love
28. "In your place, if there is pain, nurse it, and if there is a flame, don't snuff it out, don't be brutal with it. We rip out so much of ourselves to be cured of things faster than we should that we go bankrupt by the age of thirty and have less to offer each time we start with someone new. But to feel nothing so as not to feel anything—what a waste!"
— Andre Aciman, Call Me By Your Name
29. "Everyone's allowed to be in love with the wrong person at some point. In fact, it's a mistake not to be."
– Harriet Evans, Happily Ever After
30. "You know, a heart can be broken, but it keeps on beating, just the same."
― Fannie Flagg, Fried Green Tomatoes at the Whistle Stop Cafe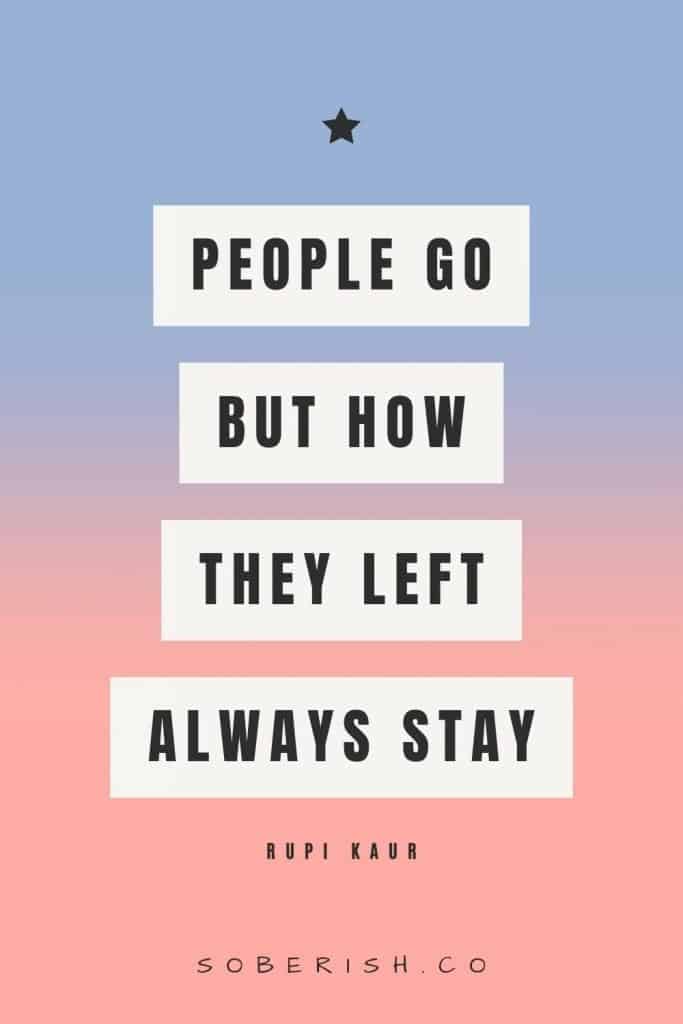 Literary Quotes About Being Ghosted
31. "Of course. That's what people do in a disordered world, a world of freedom and choice: they leave when they want. They disappear, they come back, they leave again. And you are left to pick up the pieces on your own."
― Lauren Oliver, Requiem
32. "that is the thing about selfish people. they
gamble entire beings. entire souls to please their own. one second they are holding you like the world in their lap and the next they have belittled you to a mere picture. a moment. something of the past. one second. they swallow you up and whisper they want to spend the rest of their life with you. but the moment they sense fear. they are already halfway out the door. without having the nerve to let you go with grace. as if the human heart means that little to them.
and after all this. after all of the taking. the nerve. isn't it sad and funny how people have more guts these days to undress you with their fingers than they do pick up the phone and call. apologize. for the loss. and this is how you lose her.
33. "The act of you leaving was just the full stop at the end of a terrible sentence. Fact is, I lost you long before you ever left."
― Beau Taplin, Worlds of You
34. "I hate the moments between
meeting someone and leaving
someone
there's this brief feeling of trust
before the paranoia that seeps in
once you begin to realize that
they're just like everyone else
you've met before
different person
same bullshit"
― R.H. Sin, Whiskey Words & a Shovel II
35. "This is how it is in life and love. In life and love we are with people for a while, and then we join other people, people we have not met, and we walk with them, and we leave behind all the things we used to be. Sometimes we leave people behind too… This happens every day. Every day this happens and scarcely anybody cares."
― Daniel Handler, Adverbs
36. "There are people out there who do this. They pick up and they leave. Sometimes they were never really there. Other times they are with you, but in their minds they are a thousand miles away. They are taking a walk down an endless road; they are standing in a field of daisies on some unknown cliff; they are floating through space."
― Shilo Niziolek
37. "To keep holding onto something
that is long gone –
is like existing
inside a void of emptiness
that could have been
an entire universe by now."
― Laura Chouette
38. "When someone leaves you, maybe you get a reason and maybe you don't. I don't know which is better."
― Jeff Zentner, Rayne & Delilah's Midnite Matinee
39. "She doesn't need to see him go to know he is gone."
― Missy Marston, Bad Ideas
40. "people go
but how
they left
always stays"
― Rupi Kaur, Milk and Honey
41. "Angry at him for leaving without a word, angry at myself for being so easy to leave and for not being enough to make him want to stick around."
― Jennifer Niven, All the Bright Places
42. "He possessed the power to depart, as much as a cat possesses the power to leave a mouse half killed, or a bird half eaten."
― Emily Brontë, Wuthering Heights
43. "Was it hard?" I ask.
Letting go?"
44. "Not as hard as holding on to something that wasn't real."
― Lisa Schroeder
45. "It hurts to love. It's like giving yourself to be flayed and knowing that at any moment the other person may just walk off with your skin."
― Susan Sontag, Reborn: Journals and Notebooks, 1947-1963
46. "My heart no longer felt as if it belonged to me. It now felt as it had been stolen, torn from my chest by someone who wanted no part of it."
― Meredith Taylor, Churning Waters
47. "You dump trash. You dump yard waste and old ripped couches that smell like body odor and forgetfulness. You dump cigarette butts and banana peels and hazardous waste. But people?"
― Autumn Doughton, I'll Be Here
48. "The way they leave tells you everything."
— Rupi Kaur, Answers
49. "You can be a whole package and still end up in the wrong address. "
50. "What's left unsaid, says it all."
51. "There comes a time in your life when you have to choose to turn the page, write another book or simply close it."
― Shannon L. Alder
52. "She hated that she was still so desperate for a glimpse of him, but it had been this way for years."
― Julia Quinn, The Secret Diaries of Miss Miranda Cheever
53. "Nothing had changed. I was the stupid one again. I was the girl who never understood who she was to people."
― Carol Rifka Brunt, Tell the Wolves I'm Home
54. "Do people always fall in love with things they can't have?'
'Always,' Carol said, smiling, too."
― Patricia Highsmith, The Price of Salt
55. "I wanted to punch him and understand him at the same time."
― Shannon A. Thompson, Take Me Tomorrow
56. "The feeling was enough, I think. Just to know it. To have it in my bones, make it a part of my history. There was a beautiful 'before,' without an 'after' to wreck it on the other side."
― Emma Lord, You Have a Match
57. "This is why we call people exes, I guess – because the paths that cross in the middle end up separating at the end. it's too easy to see an X as a cross-out. it's not, because there's no way to cross out something like that. the X is a diagram of two paths."
– David Levithan
Power Quotes For People Who Got Ghosted
58. "Never allow someone to be your priority while allowing yourself to be their option."
— Mark Twain
59. "You deserve someone who is terrified of losing you."
60. "Not everyone you lose is a loss."
61. "Let it hurt, and then let it go."
62. "If a man wants you, nothing can keep him away. If he doesn't want you, nothing can make him stay."
— Oprah Winfrey
63. "All discarded lovers should be given a second chance, but with somebody else."
— Mae West
64. "Endure the present, and watch for better things."
— Virgil
65. "Real love moves freely in both directions. Don't waste your time on anything else."
—Cheryl Strayed
66. "Some people don't realize what they have until it's gone, but that does not always mean they are supposed to get it back."
— Stephan Labossiere
67. "I know what I bring to the table so trust me when I say I'm not afraid to eat alone."
68. "A man wrapped up in himself makes a very small bundle."
— Benjamin Franklin
69. "Sometimes a woman will look back on what she had, not because she wants to go there but to motivate her to do better."
— Reuben "Mulah Truth" Holmes II
70. "There is no need to know the reason for why everything happens the way it does. We never question the good, so we mustn't question the bad. Just trust that what's meant to happen did, for a reason, and keep moving on."
— Kylie Francis
71. "You lose yourself trying to hold on to someone who doesn't care about losing you."
— Sonya Teclai
72. "If it's out of your hands, it deserves freedom from your mind too."
— Ivan Nuru
73. "Never underestimate a man's ability to make you feel guilty for his mistakes."
— Rihanna
74. "Change is hard at first, messy in the middle, and gorgeous at the end."
— Robin Sharma
75. "Know your worth, then add tax."
76. "Some things break your heart but fix your vision."
77. "If someone can walk away from you, let them walk."
78. "If you really want closure… at some point, you have to shut the door."
— Jacki Wells Wunderlin
79. "You can't start the next chapter of your life if you keep re-reading the last one."
80. "Truth is everybody is going to hurt you: you just gotta find the ones worth suffering for."
– Bob Marley
81. "He loved me. He loved me, but he doesn't love me anymore, and it's not the end of the world." — Jennifer Weiner, Good in Bed
82. "Some people are going to leave, but that's not the end of your story. That's the end of their part in your story."
—Faraaz Kazi
83. "Never run for a bus, train, or man. When one leaves another arrives."
84. "You can spend minutes, hours, days, weeks or even months over-analyzing a situation, trying to put the pieces together. Or you can just leave the pieces on the floor and move on."
– Tupac Shakur
85. "I'm choosing happiness over suffering, I know I am. I'm making space for the unknown future to fill up my life with yet-to-come surprises."
– Elizabeth Gilbert
Quotes About Ghosting Wrap-Up:
If you landed here because somebody ghosted you, and you're trying to find something to connect to that will make it make sense, I hope you found some relief in knowing so many others have been there.
In a perfect world, everyone would have the emotional maturity to let partners know when it's not working.
But we live in this world, and it is full of imperfect people who sometimes leave without saying goodbye.
There's an emotionally available person out there who will see your worth, and I'm rooting for you to find them!