What Do Sober People Do For Fun? 21 Alcohol-Free Ideas
When you first get sober, it can be hard to figure out what to do. What do sober people do for fun? 
For many of us, alcohol is at the center of our social lives. We're accustomed to going to parties, bars, or clubs. Even fancy dinners or game nights usually involve drinking.
In some cases, it's more than just drinking together. Socializing is about getting drunk and having wild nights you get to regret the next day.
That's how we define fun…until now.
Now, things are different because you've decided to put alcohol aside and live a happier, healthier life that doesn't involve crippling hangxiety, brain fog, and constant stress. 
Still, that larger question looms over you every Friday night. Is sobriety inherently boring?
"What can I do that doesn't involve drinking?"
A lot! But first, let's talk about why this question is so hard. 
New sobriety doesn't always feel fun.
For some, it can feel downright boring and torturous. Early in sobriety, there's a tendency to want to just stay home and hide.
This happens for a variety of reasons.
It's normal to feel depressed after you quit drinking. Alcohol disrupts your brain chemistry, impacting important cognitive functions and your mood and ability to self-regulate stress and anxiety. 
Part of the problem is you might not feel like doing anything.
Secondly, sobriety can feel lonely. Sometimes getting drunk is the thing that bonds us to our social circle. When you take alcohol away, the relationship changes. 
Maybe you still haven't found new friends in sobriety. 
Whatever the case, if sobriety feels lonely or dull to you, I want to reassure you that it won't always be that way. There will come a time when it will be perfectly normal to go out and enjoy yourself without giving alcohol a second thought. 
How long?
In the Soberish Facebook group, we took an informal poll on when sobriety "gets better." We defined that term as when you start settling into sobriety and don't feel like you're constantly wrestling with the urge to drink. 
Here's when our members said sobriety gets better:
19% said between 1-3 months
30% said between 3-6 months
42% said between 6-12 months
7% said after 12 months
It takes a little time, but once you get there, you will feel like you can take on the world.
But you aren't asking to take on the world right now. You're just trying to figure out how to have fun sober. What kind of activities can you do that don't involve drinking? 
More>> How To Stay Sober Around People Who Still Drink
Sobriety will show you how to authentically have fun:
When we're small, we easily make our own fun. But as adults, we struggle.
Unfortunately, too many of us grow up in cultures that teach us to equate grown-up fun with drinking. 
When we take alcohol out of that equation, we think, "Will I ever have fun again?"
Why?
Because we've learned (and believe) that getting drunk is the best way to have fun, relieve stress, and bond with our friends. 
Do you want to know what's ironic? When looking for images for this article, I had to scroll past most of them. Why? When you search for images of people having fun, far too many have people drinking.
It is ingrained in our culture and thinking!
The great thing about sobriety is that it will teach you how to have fun again. 
Because here's the thing, sitting on a barstool for five hours on a Saturday night is not that fun when you subtract the alcohol. We're all just consuming so much alcohol that we don't care if we're bored.
So if you don't want to sit on a barstool for five hours and watch people get increasingly incoherent, you must rediscover what you enjoy!
The great thing about sobriety is that your fun isn't limited to nightlife. There's a lot you can do to feel fulfilled.
Here are a few ideas to get you started.
21 Fun Activities That Don't Involve Drinking
1. Enjoy the outdoors.
Well-documented studies have demonstrated the restorative benefits of spending time outdoors and interacting with nature.
Ecotherapy is used to help people suffering from PTSD, mood disorders, mental illness, and other mental health problems. It's been shown to increase positive feelings, reduce depression, and help alleviate mental fatigue.
Getting outdoors may not be "fun" like a comedy show, but it can make you happy and help you discover a new hobby, so it's a great place to start.
Here are some things you can do to enjoy nature.
2. Start gardening.
Of course, where you live will impact the scale of your gardening project. The big thing is to get your hands in the soil. There is evidence that microbes in the soil may contribute to improved mood, cognitive function, and a healthier immune system.
Don't have much of a green thumb? (I don't either.) Try joining a community garden or co-op. It'll allow you to get outdoors, dirty your hands, and meet some cool people.
If you enjoy cooking, you can try starting a little herb garden. I guarantee you there are plenty of online communities centered around this activity.
You can keep yourself busy, grow fresh herbs for your kitchen, and interact with people around a topic that has nothing to do with alcohol.
Pesto, anyone?
3. Join a Hiking, Walking, or Running Club
Not only with this help you get out in nature, but it will also give you the added benefit of exercise, which is critical in sobriety. You'll also have a chance to meet people who spend their time doing things besides getting wasted at the pub every night.
Discovering the fun in sobriety is about forming healthy connections with people and finding a community to belong to. This is a great way to achieve that!
4. Dog-Walking/Volunteering
Not a big people person? Or maybe you're not ready to make a bunch of new friends yet. That's cool, too!
Try working with animals.
If you're not a pet owner, you can join a gig app like Rover to get outdoors, walk, and hang out with some cool dogs.
Playing with and petting dogs has been shown to help reduce aggression and agitation in some people. Additionally, you can volunteer at your local animal shelter to walk dogs or pet cats. 
5. Go Camping
The degree to which you rough it is entirely up to you. This is a great option if you have a core group that is down to enjoy the great outdoors with you and leave the booze at home. 
6. Take Up Cycling
Another great way to get outdoors and exercise is to get a bike, strap on your helmet, and go for a ride. It's a wonderful way to clear your mind and see your city/town/countryside from an entirely new perspective.
Plus, it's eco-friendly, so you can feel good about this mode of travel.
This is a great solo activity, or you can join a local cycling club. 
7. Go Paintballing
Fuel your competitive side and get a small group together to launch paintballs at each other for a couple of hours. It's cathartic! Plus, you get some good exercise out of it.
8. Find Outdoor Sports Rentals In Your Area
Are there any adventure tours or parks in your areas? Depending on where you live, you can do all kinds of things. Is there a place to rent ATVs? Maybe your local park has kayaks or stand-up paddle boards to rent.
Can you rent a boat? Some dirt bikes? Is there a local skate park? Kite surfing? Scuba diving? Rock climbing?
What can you do to get outside and have fun?
Start Googling activities you found fun as a kid or have always wanted to try and book some time.
9. Join an Outdoor Meditation or Yoga Group
Outdoor meditation is an incredible experience that everyone should try. We know that meditation is a powerful tool for sobriety. When combined with the great outdoors, the benefits are extremely powerful.
You can opt to do a solo practice or join a group/take a class that is held outdoors. You'll also meet new people more aligned with your new sober lifestyle. 
10. Start Exercising.
If your fitness level is nonexistent, this might sound about as good an idea as having a root canal.
But you're not the old you anymore. You're the NEW you, and you need to get out there!
Not only will exercise give your brain a much-needed dopamine boost, but you'll also have reduced stress levels, better sleep, and improved digestion.
Studies have shown that aerobic exercise helps repair the damage in your brain from drinking. You'll also get a fabulous mood and energy boost.
If you're a smoker, regular exercise also helps reduce nicotine cravings, so you can't lose here (even if you feel like you're coughing up a lung in the effort – you'll adjust!).
Another great benefit of exercise is that it can be a fantastic social endeavor with friends who are already into fitness or an outlet for finding new friends who are on a healthier path.
I've never done it, but people in recovery often rave about CrossFit. I understand why I think. There's a strong camaraderie within the sport, the gyms are known for being intensely supportive spaces, and I think people have exorcised many demons there.
Try it out if you like to push yourself (or want to), grunt, and lift heavy things!
Sober-Friendly Fitness
If you're in the States and want to find a gym that specifically caters to people in recovery, check out The Phoenix. There are many great things going on with this organization if you're blessed to live in an area with a program.
If you're unsure what kind of activities you'd even be interested in, invest in a ClassPass membership. You'll get access to various gyms and classes in your area.
Exercise will help you meet people who are into a healthier lifestyle and feel better.
It's not about looking a certain way or fitting into a particular size. Even if you walk for thirty minutes a day, you will be amazed by how much your mood improves, which will help you feel more positive about this whole sobriety thing.
(insert video of walking for thirty days benefits)
exercising with friends in sobriety
If your goal for exercise is to find a new tribe (which is a GREAT idea by the way), keep that in mind as you explore different options.
If you want to try running, join a running club. Same for cycling. If boot camp class is doing it for you, book the same class time slot consistently so you can form a crew.
Often different gyms and programs will have special events or team competitions. These are great ways to become a part of a healthy social circle.
If you're introverted or hate the idea of trying to make new friends as an adult, you will have to put yourself out there a little bit.
Start slow.
More than likely, someone will take the initiative to include you. Give it time, and you'll start to get to know people.
Plus, it's fun as hell! Have you ever done a Tough Mudder or Color Run? Now granted, alcohol is involved sometimes, but you don't have to partake.
11. Take a class.
I LOVE to learn. If I could get paid to go to college for the rest of my life, I would do it in a heartbeat.
Signing up to take a class is great for a variety of reasons.
You learn a new skill, you potentially meet new people, and you've found an activity to take your mind off things. Depending on where you live, there is probably a wide range of subjects to choose from. (It's also a great way to torture your friends by making them attend with you.)
Be bold in your choice.
Do not spend a single brain cell worrying about if it's cool or not.
If you find it interesting, book it. Think you might like to knit? Go. Want to learn how to make your own pasta? Sign up! (And then invite me over once you've perfected it).
Sobriety should feel liberating, and so should how you spend your time now that you're not drinking. What are the things you've always wanted to do but never did? Want to learn a new language or how to do African dance? Now is the perfect time to start.
The beautiful thing about having fun when you're sober is that you can completely define it on your own terms.
Besides, your brain loves novelty, which will help boost your mood and get you out of the house.
12. Make things.
This is related to taking a class in a lot of ways. Working with your hands is actually a lot of fun. Making things is fun.
It is fun and fulfilling, which is what you need in sobriety – something to fill your proverbial cup!
If you don't know how to make anything, this is a great opportunity to learn a new skill. I've always wanted to learn how to tailor clothes and upcycle old furniture.
Do you like bargain shopping and restoring old items? Woodworking? Painting? Writing?
You do not have to be good at any of it, but the act of creating adds so much color. Now that you've stopped drinking, you have time to explore new things.
Plus, you can decide whether to do these things alone or with others. 
13. Go to a museum or art exhibit.
Explore a local museum or take in an art exhibit. Find things to stimulate your mind that you find interesting but were previously too hungover to appreciate. Sometimes these places can (if nothing else) provide a place of calm.
14. Get tickets for a show or event.
If you live near a city or area where there are live performances, book tickets!
I was spoiled living in New York City, where you could see a play or musical performance any day of the week. But you don't have to live in a major city to take advantage of the arts.
It doesn't even have to be a performance. You can RSVP for an interesting lecture or presentation. Choose to attend a networking event at a hip, new restaurant.
Find things to go to and then go to them. (Yes, you have to show up!)
15. Join A Book Club (Or Any Club)
Book clubs can be a LITTLE tricky because they sometimes involve alcohol. If you're a big reader and want to find a book club to join, keep that in mind as you make your choice.
Find one that doesn't involve booze or one that is interesting enough that you wouldn't feel compelled to partake.
Do not feel self-conscious about what you find interesting. This is a horrible trait we pick up in high school. It should never matter if your interest is perceived as "cool" or not. If it brings you joy, participate!
I'm an American ex-pat in the Middle East and have a good friend who is part of a surprisingly large Dungeons and Dragon community where we live. It's filled with people from all over the globe, from all walks of life, who get together to play some D&D every week. It's awesome!
Do not limit your joy, my friend.
16. Relive Your Childhood (In A Good Way)
What are the activities you used to do for fun that you think you've outgrown? Did you love to play miniature golf? Paintball? Laser tag? Maybe a little go-kart action?
Early in my sobriety, I went to a trampoline park, and it was honestly the most fun I had had in years.
In many of our cultures, we've learned that having "fun" as an adult is hanging out and drinking or having dinner while also drinking. When you quit drinking, you must unlearn that to a large extent.
I remember being confused about what teenagers got for Christmas when I was a little girl. In my mind, one receives toys for Christmas. If you didn't play with toys, then what would you get? I think I concluded that you could buy teenagers paper and pens for Christmas.
The point is that I had a very narrow view of gift-giving at the tender age of four that mirrors a very narrow view of "fun" I developed as an adult.
The best part is that you can force partners, friends, or family members to do all this stuff with you and then watch as they have a surprisingly fantastic time.
17. Get pampered.
Maybe you're looking for a more sophisticated activity to treat yourself. A little escape. Some much-needed R&R.
Make. It. Happen.
Get some pampering, whether it's a new haircut, a fancy blowout, a nice massage, a facial, or a mani-pedi. You deserve it.
In a world where Groupon exists, there is no reason you shouldn't treat yourself now and again. Men, I'm talking to you, too.
18. Host an event.
Hosting it yourself is one way to ensure a social gathering will not be a temptation pit! But what to do?
Not sure how to have a fun gathering that isn't alcohol-centered? Here are some ideas for you to get started.
19. Start a Cookbook Club
A cookbook club is like a book club, except with cookbooks.
Everybody buys the same cookbook (I'm sure you could make this work with a food blog) and picks a dish to make from it. Then you get together, eat what everyone made, and talk about what you liked or didn't like about the cookbook.
I love cooking and eating, so this idea spoke to my soul when I first heard about it.
20. Vision Board/Goal Setting Party
Lots of ladies I know get together and do vision board parties. It's like arts and crafts but for goals.
Someone invites everyone to the house. You decide who is bringing what, but generally, you bring magazines, scissors, glue, markers, and poster board (whatever decorating accouterments you desire).
Then you sit together and discuss what you want for the future while putting together your boards. This involves a close-knit group or one with a shared purpose (let's say you all listen to the same inspiring podcast).
It's also not everyone's cup of tea, but if you like stuff like this, why not organize it at your place?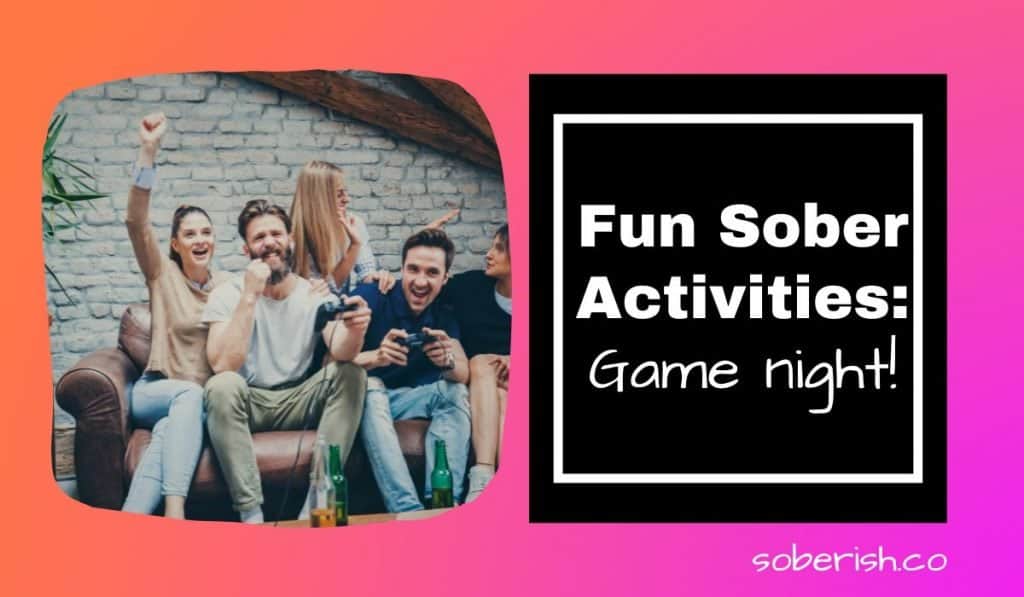 21. Game Night
Do not underestimate the power of board or card games.
Whether your poison is Monopoly, Risk, Uno, or Spades, getting a group of people together to eat junk food and play games is always a good option. This has been one of my favorite things to do in sobriety.
On a personal note, the themed Monopolies are especially brutal to play. I recommend the Game of Thrones version.
One particular gaming activity we've grown to love is Jackbox. You play it on your Smart TV (or project it from your computer) using your cell phone.
It is So. Much. Fun.
I've gotten everyone in my social circle and family on the Jackbox train. Most games are slightly inappropriate, which plays to my sense of humor.
Sometimes our game nights have alcohol, and people drink, my husband included, but I've never felt tempted because I'm having so much fun and enjoying all the snacks.
Plus, nobody is getting drunk. The primary focus is on the games.
Find YOUR Fun
When you quit drinking, you have to get to know yourself all over again.
You've spent so much time hanging out with people, getting drunk, and going to work, that you've lost all insight into what makes you tick.
Be patient with yourself and reframe your thinking. Instead of saying, "I'm bored. I don't know what to do. Nothing is fun to me," shift the conversation in your head.
"This is an adventure. I get to try all these things until I find what I like. This could be interesting!"
It all goes back to mindset.
If you have it in your head that nothing will ever be fun again, you will be 100% correct. If you want to enjoy life without booze, keep an open mind (notice a trend with this sobriety stuff?).
Not everything will be for you, but something WILL. You just need to find it.